WOM Interview – Nad Sylvan
Nad Sylvan's voice of gold is back for "The Regal Bastard", the last album of trilogy of concept albums that tell the tale of a Vampire story the brings together an excellent concept with a classic progressive symphonic rock, filled with great moments where a great team of musicians contributed for the final result – being Steve Hackett one of them. More than a great singer, Sylvan is a great composer, producer and multi-instrumentalist and "The Regal Bastard" is proof of that. World Of Metal got together with the man itself and this was what you got.
Hello Nad, it's a great pleasure talking to you speacially when you're about to release your third album, the final one of your "Vampirate trilogy", but before we dive into "The Regal Bastard", let's go back in time, to the beginning on "Courting The Widow". Back then, did you already know you were going to do three conceptual albums about this theme? How did the concept come to you?
Hello! The pleasure is all mine. No, at the time I had no such plans. It wasn´t until I was halfway into the following album "The Bride Said No", when I realised I should probably make it a trilogy. The title for "the Bride" was from an old unfinished song from 1989. When I saw the proposed artwork for the album (which I ended up using), it all made sense to me.
Let's talk about "The Regal Bastard". This was quite an ordeal for you. Didn't you feel tempted to take outside help? Didn't you feel overwhelmed to the size of the project?
Not at all. I had learned a lot from making "The Widow" and "The Bride". But I do get support from Anders Wollbeck and Jonas Reingold when it comes to production, as I mix and produce the albums myself.
You've invited again such a huge number of enourmous talent in music. We know that you let each one of the musicians soul pour into their parts but how did you decide where and how to fit them in? For example, Steve Hackett's great solo on "Honey I'm Home", did you know since the beginning that he was going to do it?
I kind of know each individual´s style and feel of playing. So I can early on in the process hear inside my head who should and could do what.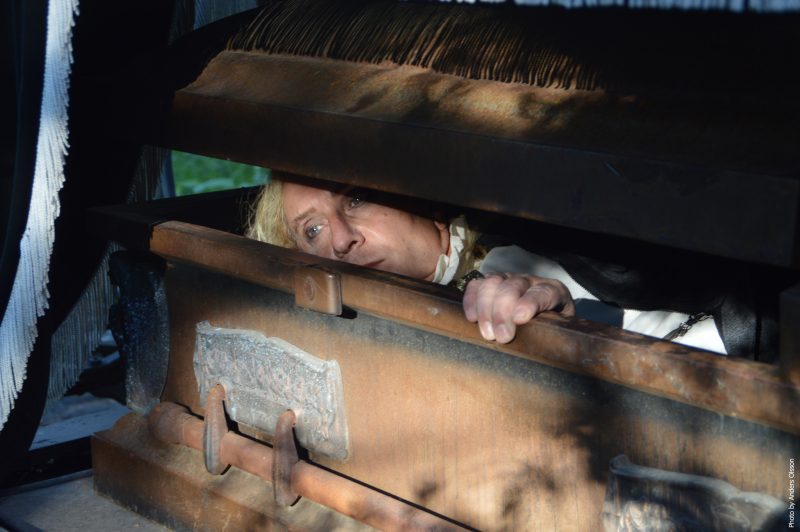 Talking about "Honey I'm Home", this song marks the end of the concept but there's two more songs, "Diva Time" and "The Lake Isle Of Innisfree", that are bonus tracks, probably for the japanese market. Were they written last, knowing that it wouldn't fit the concept?
They are not written solely for the Japanese market, they will be on the album worldwide, They were just songs I happened to like a lot outside the plot. Anders Wollbeck, whom I co wrote "Diva Time" with, is an established songwriter in his own right. He really believed in the song and so we finished it off together early this year. I told him that it doesn´t fit into the plot, but I would very much like to have it on the album as a bonus. Same goes for "Innisfree"; written and produced by Andrew Laitres in Canada for one of his solo projects. He wanted me to sing it, and I liked it so much that I asked if I could have it on my album, again as a bonus. He even withdrew it from his own album to make this happen.
The album is a great nod to classic rock as the ones before. What are the expectations you have about the reception by prog rock fans?
I was a little nervous when I released "The Bride", knowing I had changed course from "The Widow", which was extremely well received by the prog fans. The latter being more moulded in 70´s classig prog, whereas "The Bride" is more modern sounding and has a even more of my R&B/soulful side. But the reception was fantastic – so I believe now that my fans are ready for "The Bastard". Really open for anything I deliver. It´s all good.
What about taking this saga to the stage? Do you consider that?
Ah, the million dollar question. (Laughs) I do hope to be able to tour on my own sometime next year. If you look at my touring schedule this year with Hackett, you clearly can see there is no time for me to do much apart from that.
When the world is moving at a an absurd speed, it seems that nowadays people don't have time to enjoy the good things in life, like a good prog rock album. Do you feel that we, as a whole and part of modern society, are losing the ability to appreciate the best things that culture has to offer?
Definitely not what it once used to be. My music is a little more direct too these days. I now tend to write for the heart more than the mind. It´s easier to feel than to think. So I guess one unwittingly change with times, but without taking away the quality of ones work, just a little different approach. The heart can never lie, but the mind can.
---

Support World Of Metal
Become a Patron!
New WOM Android APP – Read All Our Issues for free!
World Of Metal Magazine – Out Now
Download It Here!