WOM Interviews – Astralborne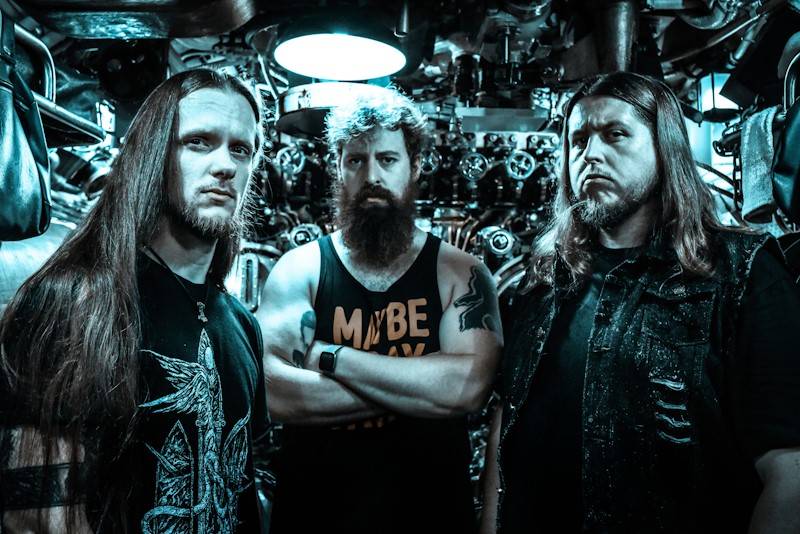 Photo by Paul Fuzinsk
Astralborne are a Midwest, US based melodic death metal trio and they're back with second album "Across the Aeons" where the band has set their sights to the vastness of the galaxy, with a heavy debt to HP Lovecraft's cosmic horror template and fantasy fiction. We welcomed Jayson Cessna, the drummer, to our World Of Metal.
Hello Jayson and welcome to our World Of Metal. You're back with a sophomore album that really takes things some steps further. There's the myth that the first album is usually easier because bands have all the time in the world to prepare it while in the second there's the usual pressure to present new and equally good music (or even better) in a short time. Although there's a 4 year gap between albums, did you feel this pressure for "Across The Aeons"?
Jayson Cessna: Hey! First off – thanks for the interview. I think you're definitely right that a band has pretty much their whole career to write and perfect that first album, whereas the follow-up is a make or break situation in a lot of cases. In our experience it's important to take whatever you laid down as a foundation and try to expand on it. If your band is technical, fast, doomy, brutal, whatever, then you
essentially should be trying to out-do yourself with more of what made you unique the first time around. It's all about refining your craft and taking on new ideas that further develop your sound. I think it's safe to say the pressure was in the back of our minds. We were definitely on a stricter deadline than usual, but at the same time we got straight to work on this album immediately after "Eternity's End" was released in 2020.
What was the main objective you had for this new album?
Jayson: I think the main objective from day one was to just have as much fun as possible writing and creating the follow-up to our debut. Astralborne started as a side project between three guys just looking to have fun by ridding ourselves of typical band dramas, egos, and any other negative experiences we've come to have by playing music for so many years. So, the mission statement going in was to just try our best to reproduce the atmosphere of what it is to be in a band together, what made "Eternity's End" so rewarding and how to keep the momentum going with one another in the studio.
How was the recording process of "Across The Aeons"?
Jayson: "Across the Aeons" was once again self-recorded in Paulie's home studio "Call of The Yeti" in Ohio. Some of the guitars were recorded in Derik's home studio, and the acoustic guitars were tracked in a makeshift studio at a cabin in Northern Michigan. Being a do-it-yourself band we kept to our roots of doing as much as we could with the tools and resources we had at our disposal.
You had some special participations on the album, can you tell us more about them?
Jayson: When we first signed with Prosthetic Records we were fortunate enough to befriend some really kick-ass musicians on the label. We asked Yegor Savonon of Fires in the Distance to cut a solo on the song "Promethean Fire". His style was perfect for the track and really became a major highlight on the record. For some of the faster shred parts we asked Steve Redmond of Foretoken to rip a couple solos for us, and
he's featured on the songs "Nocturneous" and "December Flower". Simply amazing work by these two. Lastly, we had asked our session cellist Kakophonix to return and provide the beautiful string sections for the record.
What are your live promotion plans for "Across The Aeons"? Any chance on boarding to Europe?
Jayson: Currently, we do not have any plans for performing live with Astralborne. We are primarily a studio project and, as much as we'd love to, we never had any intentions of taking it on the road. If the right opportunity arises it's possible that someday you'll see us on a stage near you, but for now it's unlikely for the band in its current form.
Order 'Across the Aeons': lnk.to/Astralborne
---
Support World Of Metal
Become a Patron!