WOM Interviews – Louise Lemón
Louise Lemón took the world by storm with "Purge". The impact was so huge that the term Death Gospel was born and made exactly for her. We were taken too and had to take the chance to talk with her just after she just finished an European Tour with Sólstafir and just before the new album "A Broken Heart is an Open Heart" is released (15th March). We're so deeply mesmerized with her new album and we believe you will to so consider this as a ticket to that voyage you will take to the dark and the light. We present with pleasure the artist herself, Louise Lemón.
Fernando Ferreira
Photos by Sophie Whiskey Tango
Hello Louise and welcome to our World Of Metal! I guess you may find somewhat strange our interest in your music but on my point of view, if is an audience that may be open to your sound is the metal comunity, specially for all the gloomy ambience. Do you agree?
Music is supposed to move people and if my music does than I am happy. I have alot of brightness in my music but also alot of depth.
Death gospel is a term that is used to define your music… do you like that label, does it make sense to you?
I love that label. My music was described as Death Gospel after a live show and I just felt that it was the perfect way to describe what I do. It makes you understand the intensity and the gloom.
It's said that for this album you've experimented with different takes on instrumentation and production, take it to a more organic and vintage side. Why this need? Do you felt that it was something it was missing on "Purge"?
I feel it is every artist responsibility to explore new paths. I couldn't have been happier about what 'Purge' is but life is to evolve and to make music is to write about who and what you are. These things go hand in hand. To make any kind of art you have to push boundaries, both your own aswell as others.
I've got to be honest, "A Broken Heart Is An Open Heart" is one of the most addictive albums I've listened so far in 2019 or even in the las months. It's bleak, it's melancholic but it's also bright and offers some light where it seems to be only darkness. A duality that we have in light and that it's somewhat hard to attain in music or arts in general. Was this duality a prime objective?
It was. When I finished my last album it was really clear to me, straight in the final mixing, where I wanted to head with my new writing. It also is a reflection of growth. To let yourself be vulnerable, dig deep but dare to shine.
For this one, what was more important, the feeling or the technical side? Like we've said, you've experimented a bit but was it more to look for a different sound's aesthetic or to evoke different feelings?
The feeling is always my number one priority. If the emotion isn't there it'd be nothing. To then use a fantastic studio just lets the creativity flow in a really easy way. The choices you make with what kind of a way you record or what instruments you use is also a important decision because it reflects what you are trying to portray. I am writing deeply personal songs and to make them come alive as honest as possible I feel that there is a need of authenticity in what kind of equipment we use when recording.
How was it for you to work with Randall Dunn on the production? Everything you've anticipated?
I am very happy with our collaboration. After having him mix 'Purge' I knew I wanted him to produce my next record since we really shared the same vision of where to go musically. The recording was very focused but also very easy because of him and the way he made me and my musicians shine in the right moments.
You've recorded everything live, to get that organic vibe? Was this a process that you've enjoyed more? Did you had to do many takes before getting to the final one?
It made me be in the moment. The mic I was singing in to let my voice just flow out of me, it captured everything without me having to push anything. We recorded most of it without click too and that was really liberating.
This album sounds classic and intemporal, like one of those set of songs that, no matter time it passes, it will always sound good. It would surprise you if in 20 or 30 years it would be referred as a classic?

Thank you. I've really tried to make an album that is done in such a way that it can stand on its own. Both lyrically and musically so that is a beautiful comment.
You're getting some shows in next month, April, in Scandinavia and the Netherlands. Do you have any idea if you will go further south in your tour?

I hope so!
This album, these songs are felt like something personal. Do you feel the weight of its emotions when singing them? Is there any one of the songs that drains you emotionally?

I get fulfilled by singing them. They are very very personal and to have gone through these things and to have been able to turn my darkest moments into something that inhibits brilliance and made it my own strength always makes me feel really empowered. Sunlight is one song that moves me alot while singing it live, but I love that it does to that extent, it means I'm singing about something that's real.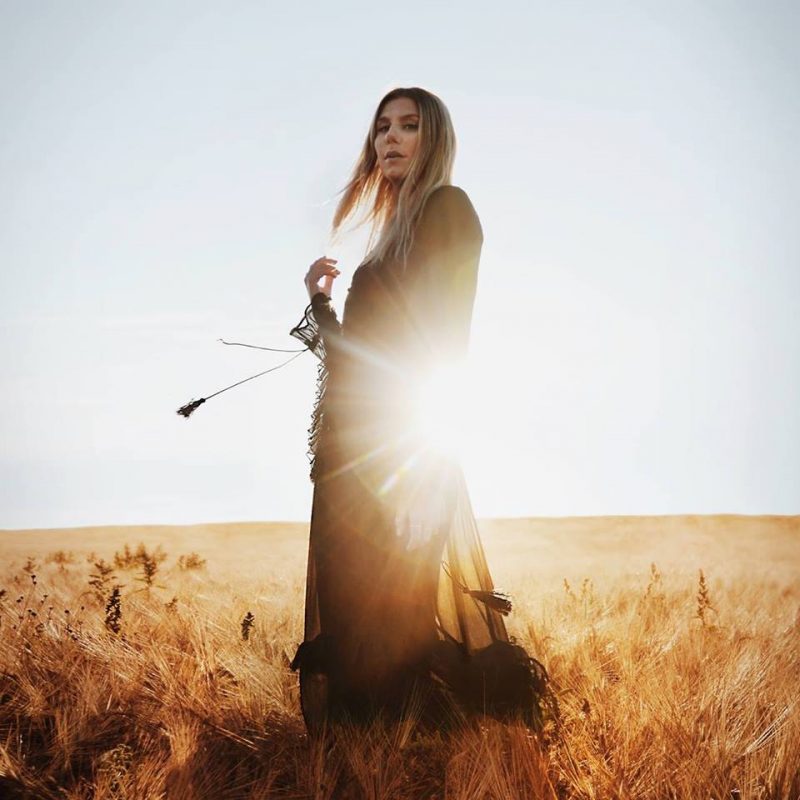 ---

Support World Of Metal
Become a Patron!
New WOM Android APP – Read All Our Issues for free!
World Of Metal Magazine – Out Now
Download It Here!