WOM Interviews – The Loved And Lost
The Loved and Lost are a great band with a sound that goes from a more melodic approach to metal, to a more refined, with some symphonic and electronic arrangements. To introduced the to our World Of Metal, we've got a word to some of its members and this is what we've got! – By Adrian Betts
When did you join / form the band?
Jord: The band was partially formed in 2011. Dan and I met in school and worked on another project together along with Scotty (our former lead guitarist – although he was our bassist then!) When we were on the lookout for a drummer, Dan just so happened to go to college with a chap called James who suggested we audition his brother Sam, who was only 15 at the time! Sam dragged all of his drum stuff from Bromsgrove to Worcester on the train and auditioned for us at The Session, our usual rehearsal rooms. Shortly after that, Scotty decided that he wanted to go back to playing guitar (his original instrument) so we needed a bassist. It just so happened that I had met Jack on our music course at college and somehow coerced him into meeting the rest of the guys in early 2012! The rest is history!
Dan: I remember just before we met Jack, we were all walking past Argos in town and Jord pointed out that Jack worked there. We looked into the shop and happened to see a dude dressed up as a banana in a cape. We all just looked at Jord and said "That's not him, is it?" and she just laughed. It was him.
Do you write lyrics / what are the lyrics/songs about?
Jord: A lot of the stuff in our current material, especially in our most recent EP "Drag Me Down", the lyrics follows an inner-struggle. It's about the invisible battles that we all fight in our own heads everyday and although you might not always feel strong enough to battle through it, just keep looking ahead. You are not alone, and you are as strong as you need to win that fight inside. The lyrics on the new tracks we have been working on have very different themes but you'll hear that soon enough!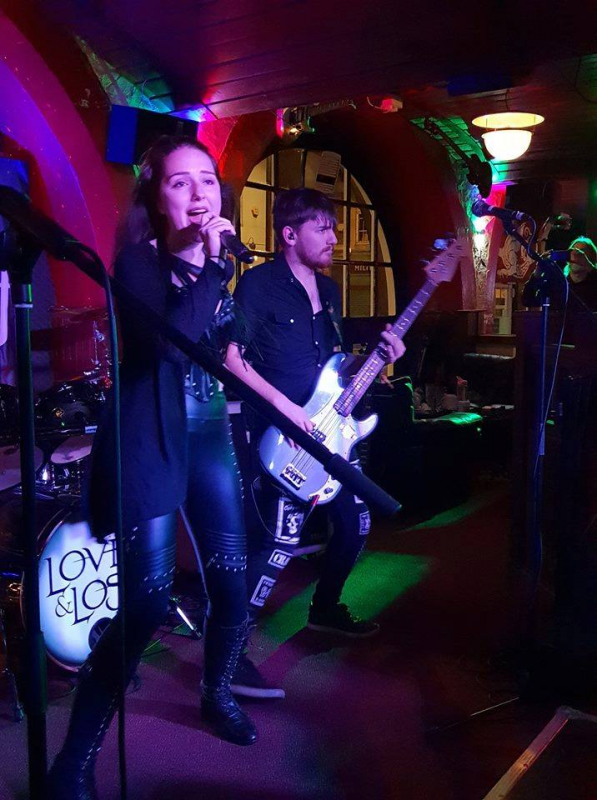 What do you think you bring to the band?
Jord: We all obviously love creating something new and unique to us but we do each have our own useful attribute. I'm slightly more business-minded in terms of making sure things get done. Dan is really charismatic and loves spending time with our fans and chatting to them online. Jack is really clued up on the tech-side of things and is alway thinking of new ideas to improve our performances. Sam brings the "LOL"s and helps with decision making if we are struggling to piece all of our ideas together.
How ambitious are you for yourself and the band? How far can you go?
Jord: We are all very ambitious in the sense that we are constantly trying to learn more and improve ourselves individually and as a band. We have learned that if you want a band to succeed, you have to invest all of your spare time, money, energy and passion. Which I know we are all willing to do and we will keep doing.
What are your plans for the band after this tour?
Jord: At the moment, we are pretty deep in writing for our next release. We have a few shows booked in just to keep us sharp but most of our focus is on our next release cycle including new music, new merch and more shows. Having this break away from playing live has given us a real chance to reset and free up our time and our brains for creating new songs.
Outside of the band
What are your favourite foods? English/Chinese/Indian/etc…
Jord: My favourite is Mexican food – just the thought of jalapeños makes me hungry. My favourite restaurant is a little place in Worcester called Chester's and it's honestly the best.
Dan: Chinese has always been my favourite – especially when it's an all you can eat buffet.
Jack: My Favourite food as in a region would have to be Italian; pretty sure i could live without most other food but pasta and pizza ohh and lasagna. though both ribs and stir fry are close in second.
Sam: I would say my favourite food would have to be either Italian or Japanese.
What are your hobbies/interests, what are you passionate about?
Jord: Aside from the obvious, I'm a bit of a nerd. I like board games, video games, watching movies and TV shows, reading and planning exciting getaways. I love to travel and aim to see as much of the world as possible – If I could do this through our music, nothing would make me happier. Outside of our own gigs, I also love going to shows and festivals as a fan!
Dan: outside the band I'm a pretty big gamer too, aside from that I do enjoy Warhammer 40k but I do love history, books and documentaries.
Sam: Outside of playing drums, I love playing Warhammer and riding my motorbike.
Jack: Other hobbies would include gaming; we are all pretty big gamers here. I'm big into my racing and RPG Games. When I'm not on the performing side I'm pretty content on the tech side of the stage. I spend a lot of time looking into new ways to better a performance though I wouldn't really call it a hobby, more secondary career after being a full time musician. I guess I'd also throw air-softing in to the mix though I don't go as often it's a great way to stay fit.
 What type of TV/movies/books do you like?
Jordan: We absolutely love the Lord of the Rings trilogy (we're actually watching it now!) So much so that we randomly throw quotes from it into casual conversation. I also love a lot of cheesy 80's and 90's movies including Labyrinth, The Princess Bride, The Dark Crystal and The Lost Boys. I'm also a sucker for Disney movies and the Harry Potter films will always have a place in my heart. As for TV shows, I absolutely cannot wait for Game of Thrones to come back. I've never been so excited and scared for a TV series to end! I also enjoy "Vikings", "Final Space" and "How I Met You Mother". I tend to read sci-fi and fantasy books primarily but I've recently been reading into ancient mythology – especially Celtic, Norse and Greek. I grew up reading the Harry Potter books and I'm still quite bitter that I didn't get my Hogwarts letter.
Dan: I really enjoy films and books about World War One, Two and Vietnam. I've always really been into that period of history and like learning more about it. One of my favourite TV shows at the moment is "Vikings" – I absolutely love it. I'm also quite a big fan of Horror – especially the "Insidious" and "The Conjuring Universe" which led me to read books about the occult. I also really like animated TV series like "Big Mouth", "Paradise PD" and "Final Space".
Sam: I would say I'm more of a TV and films kind of guy, top genres being sci-fi and fantasy.
Jack: My genres on media would be Fantasy, Horror and Thriller with Sci-fi coming close after. Mostly film for me I never seem to have enough time to get into a tv series and though I used to read, I haven't in a while, if anyone has any good books to recommend I will give them a go though.
Are you are gamer / comic fan / geek?
Sam: I am a gaming, comic fan that is a nerdy geek.
Dan: I absolutely am a gamer, my usual platforms are the PS4 and PC and I play Battlefield, Rainbow Six: Siege, Skyrim and the Far Cry series. I also love Dead Rising and the Total War games but favourite game series of all time has got to be Bioshock. At the moment, I'm also a little bit addicted to "Pokémon: Let's Go!" on the Nintendo Switch. It's becoming a bit of a problem…
Jordan. My preferred video game type is usually RPG. I loved Skyrim as soon as it came out and I enjoyed the Far Cry (3-5) and Assassin's Creed games (Brotherhood and Black Flag) and the Fable series. The most recent game that I have adored was Horizon Zero Dawn which is an absolute beast of a game, I love it! I also occasionally hop online for Battlefield, COD or ESO with the guys. We as a band also have lots of board game and table top game nights so we're a proper nerdy band
Jack: I'd go with a gamer first easily as I said earlier we all are. I'm big into the Final Fantasy Series, Tomb Raider, Metal Gear Solid, Gran Turismo, Elder Scrolls, Doom. Just to name a few. I follow my comic book lure but I don't remember the last time I physically read one, maybe online but I don't think that counts. I do follow all the Film releases though, midnight release for the marvel series (can't risk those spoilers) Marvel over DC although DC did win with the Hans Zimmer soundtrack.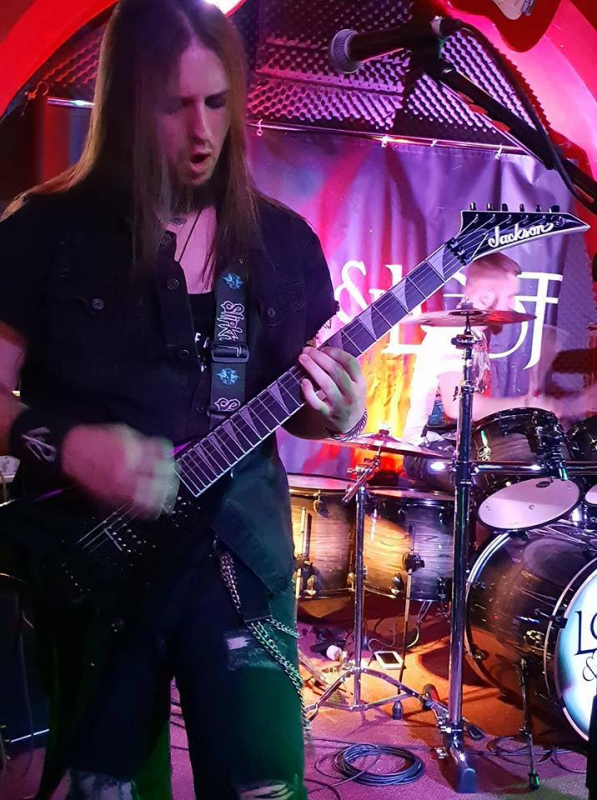 Where do you want to be in 10 years?
Jordan: On a tour bus/van with my best friends travelling the world and playing music to our ever-growing circle of friends. It's the dream!
Sam: In the next 10 years I would like to have more money than sense, so probably an additional fiver would make up the difference!
Jack: In 10 years' time, I'd hope that The Loved and Lost would still be going and stronger than ever, have a few more headlining shows behind us a few sold out tours and worldwide album releases. not an easy path but one that's worth aiming for if for no other reason than having as many different people exposed to our music and hopefully enjoy it. I'd hope that we would have had our name on at least a few of the large festivals across the UK and Europe.
Dan: As the others have said, I would hope that The Loved and Lost will have progressed in our musical career and if we could make a living from doing what we love, I would be happy.
What are your musical influences / fave albums?
Jordan: I like to listen to all sorts of music including metal, rock, game and movie soundtracks, pop, folk and pretty much anything if it's catchy. I try to draw influence from everything I listen to. My favourite albums include: Nightwish's "Imaginaerum", Papa Roach's "The Connection", Red's "End of Silence", Breaking Benjamin's "Phobia" and Within Temptation's "The Silent Force".
Dan: My main influences are Nightwish, Rammstein, System of a Down, Machine Head and Powerwolf.
Sam: My favourite album depends on my mood, A7x self-titled is up there, really been into "To be everywhere is to be nowhere" by Thrice recently.
Jack: Musical Influences, Well growing up it would have been Billy Talent, Feeder, Bullet for my Valentine, Sum 41. Since meeting the band and touring I'd say that there's definitely a wider range of music that I listen to now. Notable Albums would be Nothing More's The Few not Fleeting and Papa Roach's The Connection. A few Additional artists that I hold high regards for would be Manchester Orchestra, Destroy Rebuild Until God Shows, Royal Republic, Enter Shikari and Pendulum.
Any funny stories/anecdotes?
Jordan: I'll never forget when we went on a trip to North Wales so we could spend some time focusing on writing. It started really well as we arrived when it was pitch black and tried to break into someone else's caravan by mistake! I wish I could say that this sort of stuff didn't happen often, but it would be a lie.
Sam: Not sure which one to go with, seems every other week I do something that would disappoint a grandparent.
Jack: There are loads and most of them I've told one time or another but I'll try and go with something new. So recently we all went over to Finland to escape the English winter, and experience something much much colder. The area we stayed at was Levi, sporting a pretty impressive ski slope great for skiing and snowboarding. Not so great for an uncontrollable unstoppable plastic kids sledge. Not being one to turn down a challenge, whether it was issued or not I hiked up that snowy slope with the plastic sledge and I rode that plastic sledge and I conquered that hill. Of course it was not without self-sacrifice. At the bottom of the hill was a small jump that, at the speed I was doing, became quite an impressive jump causing me to land with a crash in the middle of the frozen lake breaking the sledge and most of my backside in the process. I then moaned about my bruised ass and ego for the next few days of our trip. Jordan still has a video of it somewhere. One of many stupid stories.
Dan: We have this weird thing in our band where we do dare, usually for either beer of money. When we were in Finland, I tea-bagged the snow in minus-30-degrees-celcius TWICE because the first time didn't count.
https://www.facebook.com/pg/thelovedandlostuk/
---

Support World Of Metal
Become a Patron!
New WOM Android APP – Read All Our Issues for free!
World Of Metal Magazine – Out Now
Download It Here!