WOM Supports – 16/03/19 – Legacy Of Cynthia, Empty V, Revenge Of The Fallen – Cine Incrível – Alma Danada, Almada
16/03/19 – Legacy Of Cynthia, Empty V, Revenge Of The Fallen – Cine Incrível – Alma Danada, Almada
A Cine Incrível – Alma Danada apresenta ao vivo três dos mais alternativos e originais projectos nacionais no que diz respeito às sonoridades mais alternativas num evento com o apoio World Of Metal. LEGACY OF CYNTHIA, EMPTY V e REVENGE OF THE FALLEN prometem trazer consigo concertos repletos de intensidade e, também eles, lançam a todos o repto para marcarem forte presença e fazerem parte integrante desta noite.
Data: 16 Março 2019 (Sábado)
Local: Cine Incrível – Alma Danada Morada: Rua Capitão Leitão 1, 2800-135 Almada
Entrada: 6€ c/ direito a uma bebida leve
Abertura de Portas: 22:00
Início dos concertos 22:30 (pontual)
Ordem de actuação:
Revenge of the Fallen
Empty V
LEGACY OF CYNTHIA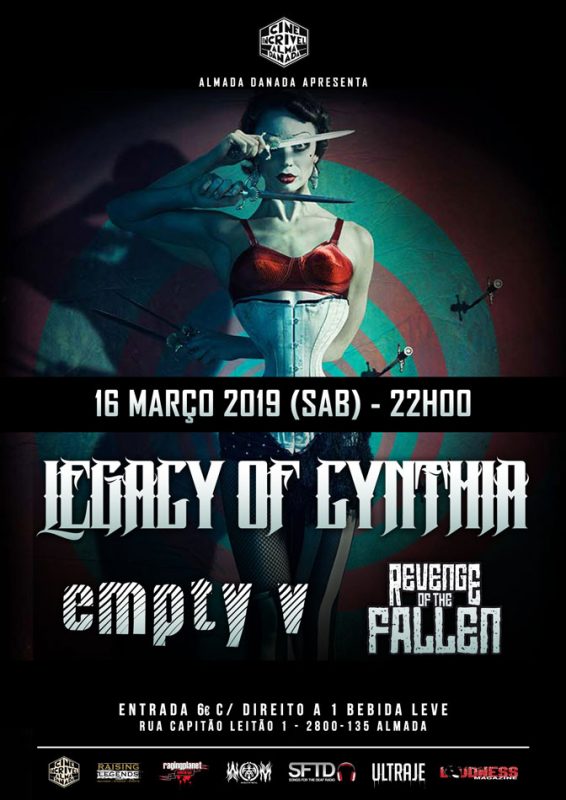 ---

Support World Of Metal
Become a Patron!
New WOM Android APP – Read All Our Issues for free!
World Of Metal Magazine – Out Now
Download It Here!