22-23/06/19 – Glassjaw – Hard Club, Porto – Lisboa Ao Vivo, Lisboa
22/06/19 – Glassjaw – Hard Club, Porto
23/06/19 – Glassjaw – Lisboa Ao Vivo, Lisboa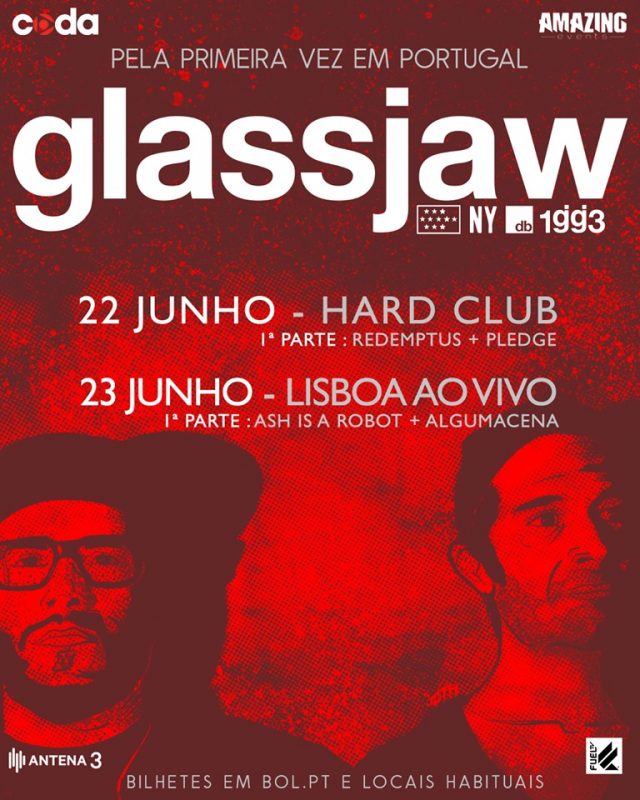 Os Glassjaw, uma das bandas que mais marcou e influenciou o género post-hardcore no início de 2000, farão a sua muito aguardada estreia em Portugal, em 2019.
22 Junho | Hard Club
23 Junho | LAV – Lisboa ao Vivo
Bilhetes já disponíveis em bol.pt e locais habituais.
Nesta primeira visita a Lisboa e Porto, Daryl Palumbo e Justin Beck convidam 4 emergentes bandas nacionais para a 1ª parte dos concertos.  No Porto, os Pledge (que foram entrevistados na nossa mais recente edição) e os Redemptus são as bandas escolhidas para "aquecer" os fãs da banda nova-iorquina. Em Lisboa tocam Ash Is A Robot e Algumacena (o novo projecto de Alex D'Alva Teixeira e Ricardo Martins) antes da tão aguardada subida a palco dos autores de "Ape Dos Mil", "Cosmopolitan Blood Loss", "Siberian Kiss" e tantos outros temas que apaixonaram uma geração fanática por bandas como Tool e Deftones, no início do milénio.
Daryl Palumbo e Justin Beck, co-fundadores e figuras de proa dos Glassjaw, trazem a Portugal todo o vasto repertório que os consagrou como umas das mais importantes bandas da sua geração: "Ape Dos Mil", "Siberian Kiss", "Tip Your Bartender" e "Cosmopolitan Bloodloss" são alguns dos temas que vão marcar a estreia absoluta dos nova-iorquinos, em Lisboa e no Porto.
---

Support World Of Metal
Become a Patron!
New WOM Android APP – Read All Our Issues for free!
World Of Metal Magazine – Out Now
Download It Here!