25 a 28/07/19 – Laurus Nobilis 2019 -Vila Nova de Famalicão
25 a 28/07/19 – Laurus Nobilis 2019 – Hypocrisy, Fleshgod Apocalypse, Soilwork, Entombed A.D., Crematory, Peste & Sida, Sinistro, Contradiction, Miss Lava, Gwydion, W.AK.O., Soldier, Analepsy, Simbiose, Sollar, HoChiMinH, Primal Attack, Tales For The Unspoken, Humanart, Wrath Sins, Grimlet, Lyfordeath, Second Lash, Toxikull – Vila Nova de Famalicão
5ª Edição do Festival Laurus Nobilis Music Famalicão.
3 Palcos, 30 espetáculos, 4 dias de puro rock e muita diversão
Campismo Gratuito, Estacionamento Gratuito.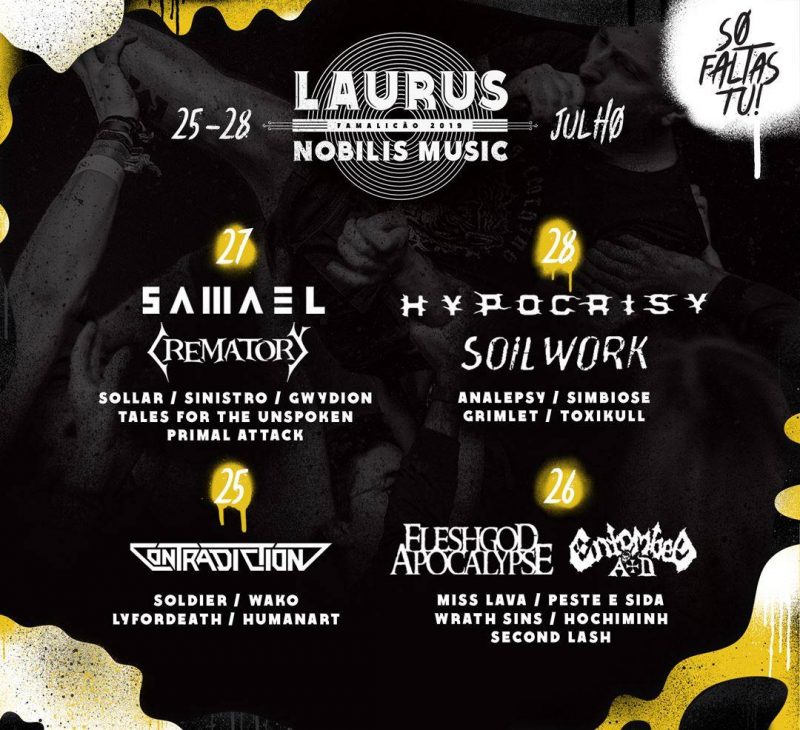 Bilhete Geral – 45€
Bilhete Diario – 30€
Festival Laurus Nobilis inova com app móvel
A app, desenvolvida em parceria com a Apperoni – desenvolvimento de apps móveis, uma Start-Up Portuguesa também do concelho de Famalicão, permite aos festivaleiros obterem informação sobre o evento, bem como ver os horários e palcos dos concertos. "Essencialmente, queríamos algo que permita a quem nos visita, ter toda a informação em tempo real sobre os concertos. E a melhor solução passa por uma app" refere José Cardoso, que faz parte da organização do festival.
O Laurus nas tua mãos! Cartaz, Horários e toda a info útil que precisas, na nova App do Laurus Nobilis, criada pela Apperoni! Disponível para Android e iOS.
Android:
https://play.google.com/store/apps/details…

Support World Of Metal
Become a Patron!
New WOM Android APP – Read All Our Issues for free!
World Of Metal Magazine – Out Now
Download It Here!