28/06/19 – Xxxapada Session By Larvae – Gutslit, Placenta Powerfist, Aischrolatry  – Metalpoint, Porto
28/06/19 – Xxxapada Session By Larvae – Gutslit, Placenta Powerfist, Aischrolatry  – Metalpoint, Porto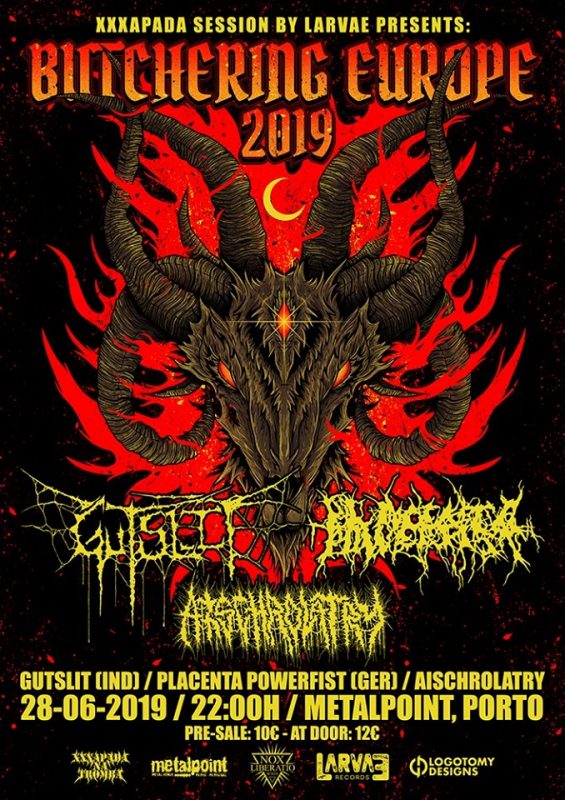 Primeira data da parceria do Xxxapada na Tromba com a Larvae –  passagem por Portugal da tour Butchering Europe com Gutslit e Placenta Powerfist! De forma a adicionar ainda mais brutalidade, contamos com os nacionais Aischrolatry como convidados especiais.
O concerto terá lugar no dia 28 de Junho, no Metalpoint (Porto) e os bilhetes já se encontram à venda pelo preço de 10€, tanto online em xxxapada.fest@gmail.com, https://larvae.bigcartel.com/, unkind.pt, letsgo e masqueticket – como nas lojas Bunker Store (Porto) e Piranha (Porto). A pré-venda termina a dia 24 de Junho, após essa data também ainda é possivel adquirir os ingressos à porta no próprio dia do evento por 12€!
BILHETES ONLINE  [trocados por bilhete físico no dia]
✘ Larvae Records
http://larvae.bigcartel.com
✘ Xxxapada na Tromba Festival
xxxapadafest@gmail.com
✘ Letsgo.pt
https://www.letsgo.pt/pt/evento/gutslit-placenta-powerfist-aischrolatry-196/
✘ UNKIND.pt
http://www.unkind.pt/catalogo/detalhes_produto.php?id=29688
✘ MasQueTicket.com [Norte de Espanha / Galiza]
https://www.masqueticket.com/entrada/638-gutslit-placenta-powerfist-aischrolatry-oporto?id_conciertos=638
►►► BILHETES FÍSICOS
||| PORTO |||
✘ Bunker Storee
Rua Passos Manuel, nº 219, Loja 12, 4000-385 Porto
✘ Piranha – Loja de Música
C. C. Parque Itália, Loja 73 – Praceta Engº Adelino Amaro da Costa, 752 – 1º Porto
Site: http://www.piranhacd.com
Telf: 22 609 1004
---

Support World Of Metal
Become a Patron!
New WOM Android APP – Read All Our Issues for free!
World Of Metal Magazine – Out Now
Download It Here!