Airbourne have new blood and a new single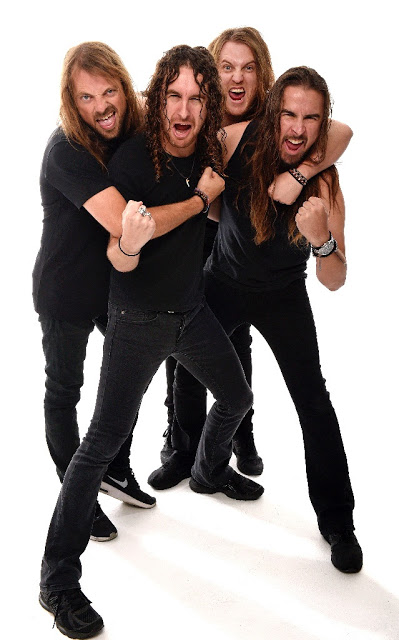 Airbourne are pleased to confirm that guitarist and their longtime staunch mate Matt 'Harri' Harrison has now joined their ranks; this comes in the wake of longstanding band member David Roads' decision to depart the world of rock 'n' roll for (quite literally) green pastures…
David has been a part of the ever-growing Airbourne story across four studio albums and extensive global touring, helping to establish the band (formed by brothers Joel & Ryan O'Keeffe in Warrnambool, Regional Victoria Australia 2003, and completed by bassist Justin Street) as one of the hard rock domain's most potent live outfits – a true force of nature with latest album, 'Breakin' Outta Hell', released by Spinefarm Records in September 2016, achieving their highest ever week-one chart positions worldwide…
"Roadsy has always loved rural Australia, his second passion being his family farm, and now he has decided to return to his roots to work alongside his father in the family business. We wish him well on his future endeavors.
"As the old saying goes, 'you can take the boy out of the country, but you can't take the country out of the boy'. We say, good on ya mate, well-played and good luck!
"Now to the future, and its all guns blazing foot to the floor! In the coming months, we look forward to introducing you to our new Airbourne Brother, he's our long time staunch mate Harri 'The Riff Doctor' Harrison. Possessing a gifted Rock'n'Roll right hand motor he already 'fits in like a well-greased piston into a V8' and we are all pumped to be bringing his powerful locomotive-like rhythm with us to rock the summer festivals!
"Cheers and see ya soon rockers!" – Joel, Ryan & Streety.
"Many thanks to all the fans. It has been an absolute pleasure rocking out with you guys over the years. It was great to be a part of this wild Airbourne ride! Cheers!" – David
Airbourne will have a new single issued via Spinefarm Records; titled 'It's All For Rock N' Roll' and taken from the 'Breakin' Outta Hell' album, it will be available as a special 12" vinyl release for Record Store Day (Saturday, April 22nd). This limited edition package will come complete with gatefold sleeve, bronze vinyl, plus fold-out poster, and is dedicated to Lemmy & Motörhead, as is the accompanying clip – a heartfelt tribute video (featuring Motörhead's legendary 'Bomber' stage prop) released by Airbourne back in February.
Support World Of Metal