Blind Idiot God to re-release classic album 'Undertow'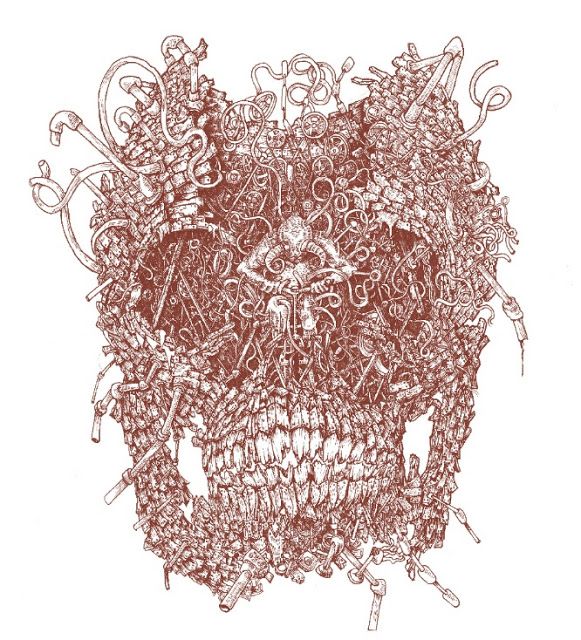 Indivisible Music is set to release the remastered sophomore album by
BLIND IDIOT GOD
(
BIG
) titled "
Undertow"
, on October 13, 2017. The album was produced by Bill Laswell and originally released in 1989. The three bonus tracks, which are pressed to twelve-inch 45 RPM for the vinyl iteration make it a double vinyl, gatefold release. Bonus material includes their collaboration with
John Zorn
(saxophone), "
Purged Specimen"
, and a remix of their hard driving collaboration with
Henry Rollins
for
the title track of the movie Freaked
(directed by Alex Winter), plus the original longer, never released version. It is the only BIG track featuring a vocalist to date.
"I know it is rare for them to have vocals in their music," Rollins has said of recording with the band, "so I felt lucky to have been an exception. I remain a fan."
BIG guitarist and co-founder, Andy Hawkins, recounts: "Blind idiot God opened for Black flag in St. Louis, 1983. There never was, nor will there be anybody else like them. They made huge leaps forward in heavy music. Having played with and seen Black Flag with Henry many times, I was thrilled when he consented to do the vocals on the Freaked title track.
"Henry's words are way past rock lyrics, with a heft and impact that reaches beyond poetry. He came into the studio with the words and we had a quick discussion about the form of the long and short versions. He then quietly arranged his phrasing for a few minutes and knocked it out. Totally pro and totally great, I think it's one of his best rock efforts ever. Start to finish, it probably took less than an hour to nail both versions, I don't think it could've gone any better."
On working with John Zorn, Hawkins explains "John was our first champion and shared an interest in a wide angle approach to making music. It was fantastic to work with him. His process is a high speed collision of ideas which generates sparks and twists forms. His directions are those of a traffic cop deliberately trying cause an accident and you just have to go with it for maximum mayhem."
Undertow was the band's first experience working with Bill Laswell, and features the band's original line-up with Andy Hawkins on guitar, Gabe Katz on bass and Ted Epstein on drums. Hawkins explains "Working with Bill on this record involved learning deep knowledge, and was the beginning of a decades long relationship which has continued to inform and help refine our process. He is also a very generous and real person who is a pleasure to work with."
The band has shared the stage with artists like Helmet, Black Flag, The Minutemen, Sonic Youth, Die Kreuzen, Don Caballero, Jesus Lizard, Napalm Death, HR, Eekamouse among many others. John Zorn in addition to collaborating with the band also released their third album on his own Avant Records label and has played with them live.
Invisible Music plans to re-issue the remaining two out of print BLIND IDIOT GOD records in the near future. The band is currently rehearsing the material for the fifth BLIND IDIOT GOD record, to be released in 2018. While the format of three stylistically different approaches remains in place, the lines are further blurred, and the music has a new urgency as the band explores a more improvisational approach to the compositional ideas.
Support World Of Metal