GOATWHORE to release 'Vengeful Ascension' June 23rd via Metal Blade Records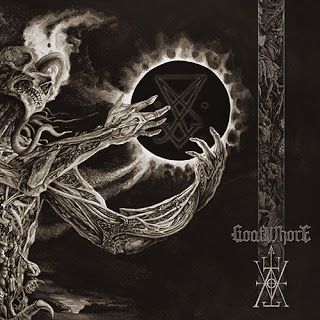 GOATWHORE will release their anticipated 'Vengeful Ascension' full-length worldwide on June 23rd via Metal Blade Records. The band's seventh full-length and second recorded reel-to-reel, 'Vengeful Ascension' was captured at Earth Analog in Tolono, Illinois near Champaign, Illinois with longtime soundman and comrade Jarrett Pritchard (1349, Gruesome), breaking a four-album tradition of working with Erik Rutan.
"Working with Rutan was awesome," says GOATWHORE front-man Ben Falgoust. "We did some great records with him. But you come to a point where you're like, 'All right. Let's try something new.' It was part of trying to remove ourselves from a comfort zone and a risk thing we needed to take. Plus, we really wanted to hit the essence of where we are live and what better way to harness that than by having our live sound guy involved. Jarrett is knowledgeable with the studio stuff. He also knows how we sound coming out of a PA and we really wanted to get closer to that."
The resulting ten-track, forty-one-minute production – mixed by Chris Common (Tribulation, Pelican) and mastered by Maor Applebaum (Faith No More, Halford, Today Is The Day) – marches in, clutches its listeners by the throat and refuses to loosen its grip until the abrupt conclusion of 'Those Who Denied God's Will.' A sonic manifestation of war, chaos, desolation, and emotional conflict, seamlessly bridging twenty years of the band's signature brand of audio venom, it's a record that finds its members at their most accomplished both individually and as a cohesive unit. Guitarist Sammy Duet's dense, sub nuclear riff work and possessed solo blitzes are at their most devastating, spiraling flawlessly and instinctually around drummer Zack Simmons' and bassist James Harvey's hammering rhythms, while Falgoust's distinctly commanding roar, his acidic prose, more enunciated than ever before, complimenting the apocalyptic proceedings.
"Each song is a representation of Goatwhore. From day one until now. It really shows our evolution as a band," the front-man reflects."I don't think that this band has reached its peak yet. I mean, I think we're closer now than ever but we're still growing; we're still evolving."
Support World Of Metal