In Flames – announce arena tour with Five Finger Death Punch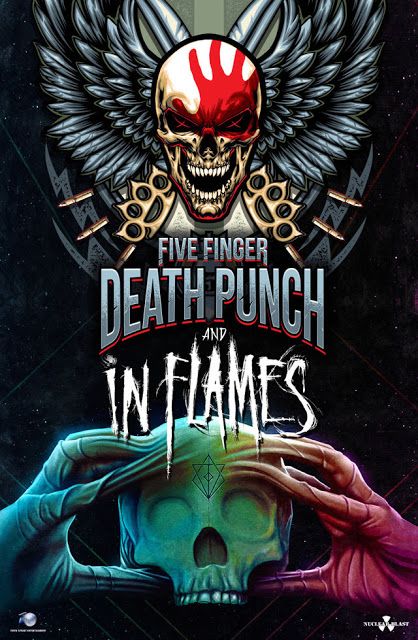 A true clash of the titans, renowned chart-topping European legends IN FLAMES unite with America's preeminent multiplatinum hard rock band FIVE FINGER DEATH PUNCH to co-headline what promises to be the biggest and most exciting arena rock tour of Fall/Winter 2017. This marks the very first time that these two juggernauts have joined forces on the road together, and it's a "can't miss" moment for the genre and fans at large.
The trek ravages arenas across Europe and the UK beginning in November, stopping in most major cities, and concluding December 21 at iconic Wembley Arena in London, UK. General ticket on sale will take place this Friday, June 16 at 10:00am local time.
Live Nation has joined forces with FIVE FINGER DEATH PUNCH and IN FLAMES for a one-of-a-kind tour partnership featuring exclusive pre-sales, packages, and content from both bands. The tour has partnered with Spotify for an exclusive 24-hour pre-sale kicking off tomorrow for super fan listeners of both acts, Wednesday, Jun 14 at 10:00am local time. There will also be a Ticketmaster pre-sale starting on June 15 at 10:00am local time leading up to the general on sale the next day.
LiveNation presents the tour. German tour dates will be presented by LiveNation and Wizard Promotions.
FIVE FINGER DEATH PUNCH guitarist Zoltán Báthory states:
"We are currently playing all the European festivals and are having an amazing time. As these massive crowds are singing along every word of the lyrics, it feels like Europe is truly becoming the second home of FIVE FINGER DEATH PUNCH. We can't wait to come back this Fall and especially with IN FLAMES which is one of my favorite bands. This will be something special to see…"
IN FLAMES singer Anders Fridén offers:
"We've been lucky to play for so many Jesterheads around the World this year and can't think of a better way to end 2017 than touring Europe with FIVE FINGER DEATH PUNCH. We'll see you soon Jesterheads and Knuckleheads. It's going to be a tour to remember."
Support on select EU dates and all UK dates of the tour comes from Of Mice & Men. The Orange County, CA-based band recently returned with two brand new songs, 'Back To Me' and 'Unbreakable'.
Both FIVE FINGER DEATH PUNCH and IN FLAMES remain leaders of hard rock and heavy music worldwide: FIVE FINGER DEATH PUNCH's crushingly epic 2015 sixth full-length studio album "Got your Six" hit new heights for the band around the world with chart-topping debuts in the US (#1 on Top Album chart, #1 on Overall Digital Album chart, #1 on the Hard Music Album chart, #2 on the Billboard Top 200) and internationally (Australia & Canada #3, Germany & Sweden #5, UK #6 Holland #17, Belgium #29 and France #32).
12 albums into their storied career, IN FLAMES reached new heights on 2016's "Battles" – produced by GRAMMY Award winner Howard Benson [My Chemical Romance, Papa Roach], hitting Top 10 charts around the world with a #2 in Sweden, #3 in Finland and multiple other major countries such as Germany and Austria. Alternative Press, Metal Hammer, and more praised the record as the hit 'The End' clocked over 6.6 million Spotify streams and counting. Most recently, they unleashed two new official music videos for their latest singles; first being 'Here Until Forever' in May via Decibel and 'Save Me' via European retail giant EMP, today upon announcement of the tour.
Support World Of Metal