Outeiro Metal Fest 2019: Redemptus e Divine Ruin completam cartaz
Após uma estreia de sucesso, o Outeiro Metal Fest regressa este ano para a sua segunda edição, com a aposta renovada em oferecer novas correntes de música extrema ao norte interior do país. Com entrada totalmente grátis, a freguesia de Outeiro Seco, localizada nos arredores da cidade de Chaves, volta receber o festival nos dias 13 e 14 de Setembro.
Do cartaz já faziam parte nomes como Gaerea, Systemik Viølence, FERE, ou os espanhóis Perpetual. A juntar a estes, Redemptus e Divine Ruin são as mais recentes novidades, completando assim o cartaz para a edição de 2019. O alinhamento contará ao todo com onze propostas diversas, do Black ao Crust, do Sludge ao Death, ou do Post-Metal a infusões mais Avant-garde.
Destaque ainda para a presença dos galegos Pneura, banda de Crust Punk natural da cidade vizinha de Verín. Desta forma, o festival pretende celebrar os laços históricos entre as duas cidades, que de resto formam a denominada Eurocidade Chaves-Verín. Já do lado Trasmontano, o evento contará com a jovem banda flaviense Niil e com os imprevisíveis Ruína. Para além dos mencionados, do cartaz final fazem também parte os portuenses Wrath Sins e Verbian. Mais informações em outeirometalfest.com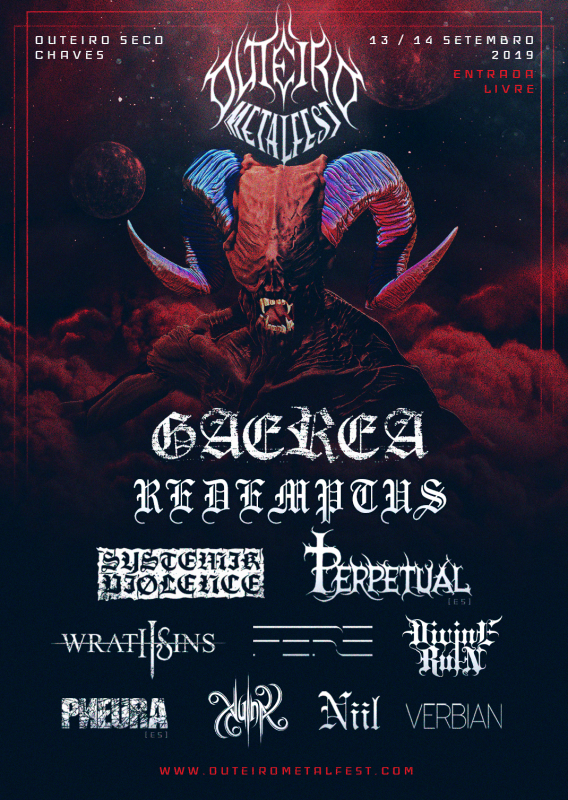 ---

Support World Of Metal
Become a Patron!
New WOM Android APP – Read All Our Issues for free!
World Of Metal Magazine – Out Now
Download It Here!