Rhapsody – conclude a successful Latin American "20th Anniversary Farewell Tour"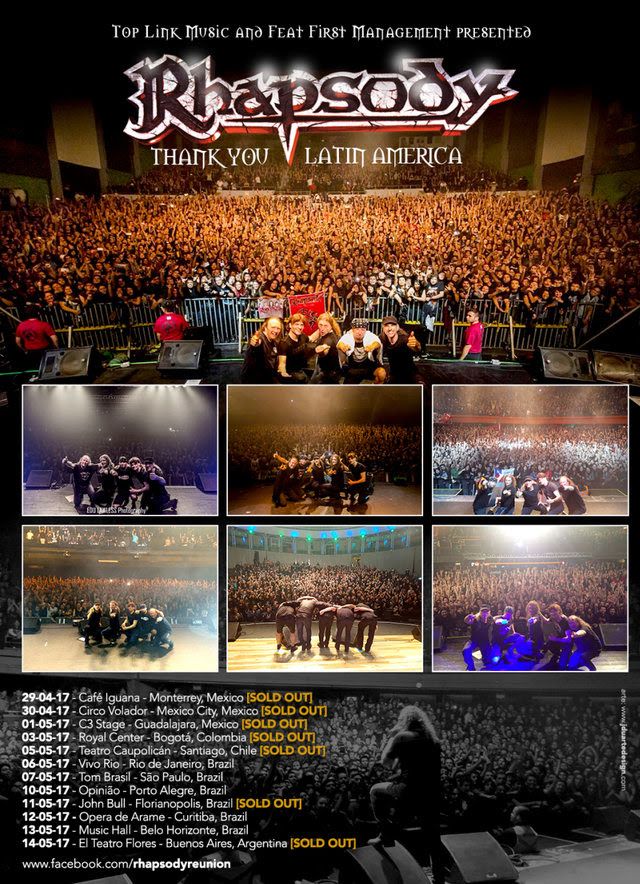 Recently re-united Italian symphonic metal band RHAPSODY finished the first part of their "20th Anniversary Farewell Tour". On this successful tour, the band performed sold-out shows in Mexico City, Bogotá, Santiago and Buenos Aires.
"We were very happy with the warmth received at every show. I always knew how much you loved us, but not as much as we just witnessed. I leave this tour with my soul cleansed, because you made the difference. The songs we played in these shows represent a fundamental part of our band history and performing these compositions was really incredible", says the excited vocalist Fabio Lione.
Luca Turilli adds: "Personally, the emotional impact of this "20th Anniversary Farewell Tour" is for me something incredible, and when I realize I am playing for the last time on stage some classic RHAPSODY hits like 'Emerald Sword', I can't stop thinking that no-one should miss any of our next upcoming shows. Join us once more to share some great positive energy and live some memorable nights together!"
RHAPSODY is currently preparing for the European festivals and after that, will tour Asia, with all dates soon to be announced. The reunited RHAPSODY consists of Fabio Lione (vocals), Luca Turilli (guitars), Dominique Leurquin (guitars), Patrice Guers (bass) and Alex Holzwarth (drums).
Since emerging in 1997 with the album "Legendary Tales", RHAPSODY has become a worldwide acclaimed band thanks to its unique, epic and orchestral style. 'Emerald Sword', 'Wisdom Of The Kings', 'Knightrider Of Doom', 'Symphony Of Enchanted Lands', 'Dawn Of Victory', 'Lamento Eroico' and 'Holy Thunderforce' are some of the classic compositions that were performed during the tour, together with some other songs never played before.
RHAPSODY's main influences include classical composers such as Vivaldi, Bach, Beethoven, Paganini and many others (the song 'The Wizard's Last Rhymes' from the album »Rain Of A Thousand Flames«, for example, is based on Antonín Dvořák's 'New World Symphony'), renaissance and folk music.
These elements mark the band as clearly unique in the metal world and, thanks to its magic, gathered many fans around the world and inspired many other bands. They gave birth to a new musical wave and genre, while establishing a real and effective RHAPSODY imagery that will be celebrated in the months to come at several European festivals.
Check out the "20th Anniversary Farewell Tour" dates:
07.06. I Milan – Alcatraz (w/ EPICA, LABYRINTH)
10.06. S Sölvesborg – Sweden Rock Festival
17.06. B Dessel – Graspop Metal Meeting
24.06. FIN Nummijärvi – Nummirock
21.07. I Vinci – Festa dell'Unicorno
27.07. IL Tel Aviv – Bascula Club
11.08. P Vagos – Vagos Open Air
12.08. E Villena – Leyendas del Rock
Support World Of Metal