Seven Spires streaming coming album "Solveig"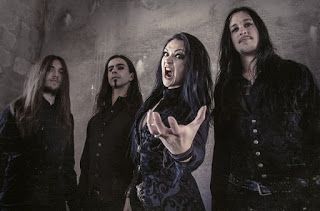 "Solveig": Seven Spires' potent, full-length concept album – the journey of a lost soul through a neo-Victorian underworld ruled by an ancient demon. Despite small glimmers of hope, it is a grim tale with a heavy focus on escapism, death, and decadence. With distinct attention to melancholic power metal, melodic death metal, and black metal, these storytellers fuse sounds from across the spectrum of metal with their great love for Romantic composers and film scores.
"The human soul is a complex, multifaceted nebula of memories, intentions, and dreams," says vocalist Adrienne Cowan, "And in order to fully express this in a story-driven album, I think it is so important to use every musical tool available to us. You can expect everything from regal black metal, bittersweet power metal during brighter moments in the story, and even a little doom metal in the darkest depths."
After proving this live (and witnessing firsthand the devotion of the European metal scene during a torrential downpour in the misty mountains of Slovenia) with their headlining set at MetalDays 2017, Seven Spires will give their fans the ultimate chance to feel the incredible strength of their music once more – by streaming "Solveig" online for free from July 31st until the album release on August 4th.
Support World Of Metal