Sweet Apple confirm details of new album, 'Sing The Night In Sorrow'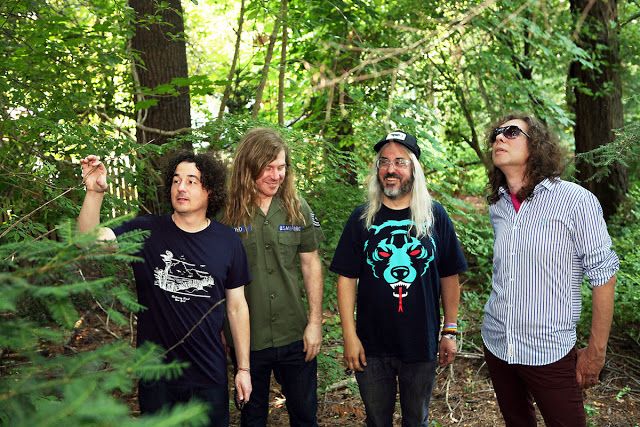 SWEET APPLE have today confirmed release details for their third studio album, Sing The Night In Sorrow, due on July 28 via Tee Pee Records.
The band – featuring J Mascis (Dinosaur Jr., Heavy Blanket), Tim Parnin (Cobra Verde, Chuck Mosley), John Petkovic (Cobra Verde, Death of Samantha, Guided By Voices) and Dave Sweetapple (Witch, Eerie, Dusty Skull) – have collaborated across several state lines to create the follow up to their critically acclaimed 2014 release, The Golden Age of Glitter.
Given the band's broad geographical reach, it's no surprise that rock four-piece have confirmed details of the guest musicians that have contributed to the upcoming album. Mark Lanegan (Screaming Trees, Queens of the Stone Age), Robert Pollard (Guided by Voices), Rachel Haden (Haden Triplets) and Doug Gillard (Guided by Voices, Nada Surf) all make an appearance. Meanwhile, Stephen McBean (Black Mountain, Pink Mountaintops) will join the band on second guitar for live shows.
The album explores themes such as longing and escape, darkness consumed by endless daylight, love amid lovelessness, faulty memory, alienation and distance. It's set to a musical palette that is wide-ranging, mixing atmosphere with impact. Sing The Night In Sorrow rolls out insurgent guitars, glitter-stomp, and orchestrated pop.
With more details – and new music – due to be unveiled over the coming weeks, SWEET APPLE are gearing up to leave their mark on 2017. The band will tour in support of Sing The Night In Sorrow.
"Sing The Night In Sorrow" will be released via Tee Pee Records on July 28, 2017.
Support World Of Metal