Tankard – "One Foot In The Grave" Cover Artwork Revealed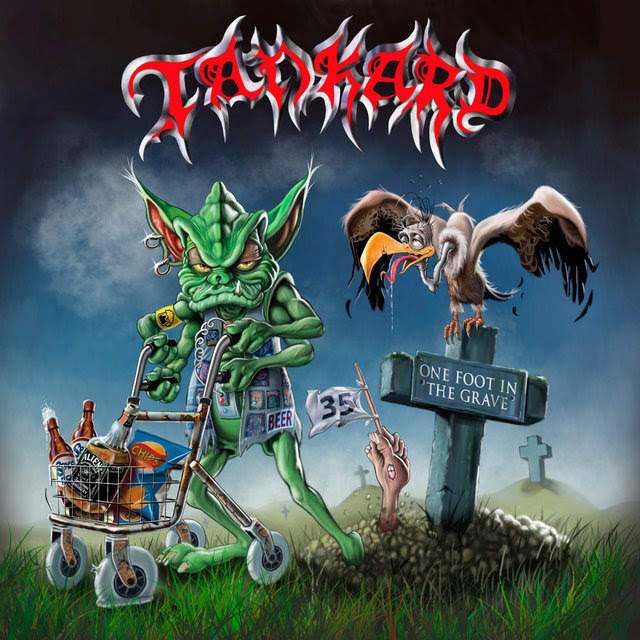 In their jubilee year (35 years of Tankard"), the band will release their 17th studio album that will be entitled "One Foot In The Grave" and will be released on June 2nd, 2017 via Nuclear Blast.
Today, 28th of March, the band presents the cover artwork of the anniversary album. With this, the iconic band mascot, the Tankard-Alien, celebrates his return after about 13 years of absence. The alien was born in 1989 with the "Alien-EP" and has already graced five album covers. The Tankard fan club "Maniac Aliens" is named after it also.
The artwork was brought to life by Patrick Strogulski, who is a student of Sebastian Krüger, the former Tankard cover artist. He also created the cover artworks for "A Girl Called Cerveza" and "R.I.B.".
Vocalist Gerre comments:
"Mister Strogulski has once again created a real masterpiece and surpassed himself. Our first plan was, that I would be on the cover instead of the alien… but, lucky me, it ended up being the alien…"
"One Foot In The Grave" was recorded at Gernhart Studio (Troisdorf,Germany) together with producer Martin Buchwalter (Destruction, Suidakra) in January 2017.
The band have already published a studio trailer in which you can have a look behind the scenes of the record's production. In addition, you may also listen to the very first song snippets.
Watch it here:
Support World Of Metal