Tankard to release new EP "Schwarz-weiß wie Schnee"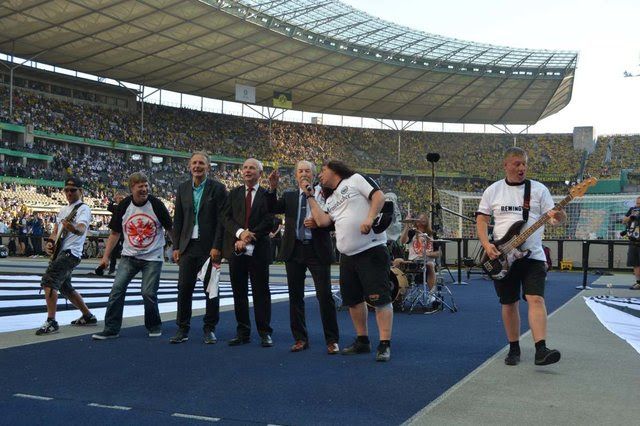 Two months ago, the German thrash metal legends TANKARD played the Eintracht Frankfurt club anthem 'Schwarz-weiß wie Schnee' in front of over 30.000 enthusiastic Frankfurt supporters, a short time before the kick-off of the German cup final between Eintracht Frankfurt and Borussia Dortmund at Berlin's Olympic Stadium.
Today, the band announces a new version of the EP "Schwarz-Weiß wie Schnee" (which has been completely sold out for over ten years). The EP will be released on CD and "7 Vinyl" on 15 September 2017 via Nuclear Blast.
The Eintracht anthem, which has been played in the stadium for ten years before every home game of Eintracht Frankfurt, has now been completely re-recorded by the band. The thrashers were supported by Henni Nachtsheim (Badesalz), Ande Werner (Mundstuhl) and Roy Hammer (Roy Hammer & Die Pralinées), who can be heard in the backing choir.
The tracklist of the new EP:
1. Schwarz-weiß wie Schnee (Studioversion 2017)
2. Forza SGE
3. Schwarz-weiß wie Schnee (1999er Version)
4. One Foot in The Grave
5. A Girl Called Cerveza
6. (Empty) Tankard (live, 2016)
Support World Of Metal