Wolves In The Throne Room Unveil Music Video For "Born From The Serpent's Eye"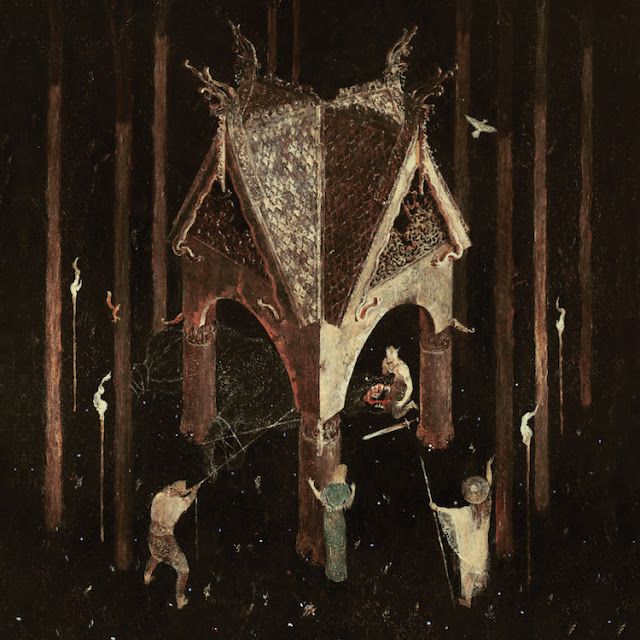 Since their inception in 2002, over the course of 5 studio albums and hundreds of live performances, Wolves in the Throne Room have refracted Black Metal through their own Cascadian prism. Their songs explore the hidden world of magic that one accesses through dreams, visions and music and the resulting sounds are intimately linked to the wild lands of the Pacific Northwest. Now, a portal into the dreamworld of Wolves in the Throne Room opens again with their forthcoming sixth LP, "Thrice Woven" – a glorious return to the blazing and furious Black Metal that they alone can create. Today, the band has unveiled a magical new music video for a segment of the album's first single, "Born from the Serpent's Eye." Watch it now below:
Wolves in the Throne Room commented: "This is our first video. We lit a bonfire and blasted through the first part of 'Born from the Serpent's Eye'. You'll have to listen to the full track to hear Anna Von Hausswollf's glory. This is the first time we'd played the song with Kody and it f*cking slayed. Peter and Nico captured the magic. May the good fires blaze!"
Aaron and Nathan Weaver, the core members of Wolves in the Throne Room, employ Black Metal, crushing Funeral Doom, otherworldly psychedelic dark ambient soundscapes and lifting folks passages. Their pioneering sound has expanded the boundaries of underground metal in ways that have been both bold and influential. When the band returned to the road in summer 2016 long-time touring guitar player Kody Keyworth was welcomed as a full member of Wolves in the Throne Room. And on Thrice Woven, Kody contributes raven's screams and some of the most brutal and dark riffs. The live line-up also features Peregrine Sommerville (Sadhaka) playing 3rd guitar and Brittany McConnell (Wolvserpent) on keyboards and percussion. The effect of 3 guitars on stage is mesmerizing and reflects the ethereal dark psychedelia of the band's albums. Additionally, "Thrice Woven features" guest appearances from Steve Von Till (Neurosis), Anna Von Hausswolff, and Turkish harpist Zeynep Oyku.
Look for Thrice Woven to be available August 23rd on Wolves in the Throne Room's own label, Artemisia. More information coming soon.
Thrice Woven, track listing:
1. Born from the Serpent's Eye
2. The Old Ones Are With Us
3. Angrboda
4. Mother Owl, Father Ocean
5. Fires Roar in the Palace of the Moon