WOM Features – Herod premieres first advance single "Reckoning" – Exclusive!
Photo by Shehnaz Khan
Swiss progressive sludge metallers Herod joined World Of Metal to premiere their new album's, "Sombre Dessein", first advance single "Reckoning". Below you can see the grim video clip for "Reckoning".
The band comments: "The concept behind "Sombre Dessein" is "the rise and fall of dictatorship & benevolent dictatorship" – This and the modern human condition/the disease of consumerism. "Reckoning" in particular, is the chapter of our story where we begin to see the cracks in the foundations… the turbulence and tearing down of initial visions/misinformation. Additionally, it was the first song that has been composed for this album and was always intended to be the single."
"This is the song that the band recorded as a pre-production in order to find the next singer. Mike had reached out to Pierre after mutual friend Julien Fehlmann had told him of their vacant position. He received an MP3 of the track and took that off with him to Scotland where he was staying for a week, in a rural cottage over 100 years old. He borrowed a friend's mobile rig and screamed down the cottage, then walked around for about an hour outside trying to get a 4G signal to upload (laughs). Needless to say, he got the part…"
"The aesthetic of the video clip is made out of old footage of ancient civilisations which have collapsed at some point. Our current civilization will not escape this statement and we might reach the end of it."
Herod have arisen from the everprosperous Swiss music scene. Throughout their young 4 years of presence, they have already shared the stage with such acts as Gojira, Crowbar, The Ocean, Carcass, Obituary, Napalm Death and Voivod – Attesting their repute as the bus boy's of King Herod, serving up whole sides of rare riffs, disposition, beauty and authority. Initially the brain child of guitarist Pierre Carroz, 2014 saw Herod's debut release "They were None" via Mighty Music and a subsequent European tour. Following the departure of original vocalist David, former THE OCEAN (Precambrian) vocalist Mike Pilat was recruited for follow up album "Sombre Dessein". Pilat also plays guitar and Herod are now furnished with a supplementary layer of musicality to complement both heaviness and soundscape aspects of their palette. CARCASS guitar player Bill Steer makes a guest appearance on the track "Fork Tongue". Recorded and mixed by Swiss audiophile Julien Fehlman, mastered by Magnus Lindberg from Cult of Luna, "Sombre Dessein" is an album of staggering riffs, intricate yet groovy polyrhythmic patterns and sheer heaviness. The bi-lingual vocal approach adds an unusual but intriguing aspect to the band's delivery of their craft.
"The concept of the album is about the end of our Judaeo-Christian and thermo-industrial civilisation. The artwork and video clip are made up from footage of "Shipbreakers", people who dismantle huge container ships which end up mooring to die on Indian or Bangladeshi shores", comments Pierre Carroz. HEROD create a strong musical and visual image of the abysses of the human consumption project, "which turns out to be hell on earth for these people whose every day work involves constantly risking their lives to feed their families", Carroz says.
HEROD will hit the road for a massive tour with THE OCEAN and DOWNFALL OF GAIA in march. Please find the dates below: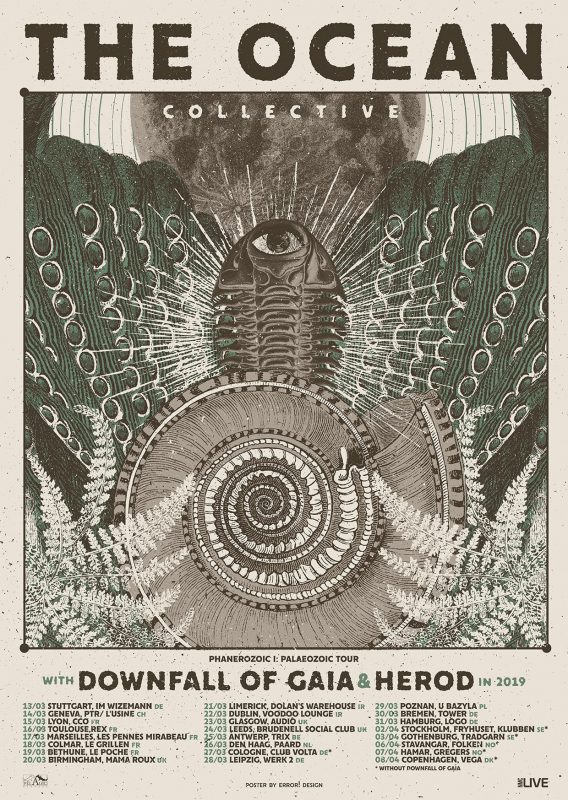 13/03 – DE, Stuttgart – Im Wizemann
14/03 – CH, Geneva – PTR/ L'Usine
15/03 – FR, Lyon – CCO
16/03 – FR, Toulouse – Rex
17/03 – FR, Marseilles – Les Pennes Mirabeau
18/03 – FR, Colmar – Le Grillen
19/03 – FR, Bethune – Le Poche
20/03 – UK, Birmingham – Mama Roux
21/03 – IR, Limerick – Dolan's Warehouse
22/03 – IR, Dublin – Voodoo Lounge
23/03 – UK, Glasgow – Audio
24/03 – UK, Leeds – Brudenell Social Club
25/03 – BE, Antwerp – Trix
26/03 – NL, Den Haag – Paard
27/03 – DE, Cologne – Club Volta
28/03 – DE, Leipzig – Werk 2
29/03 – PL, Poznan – U Bazyla
30/03 – DE, Bremen – Tower
31/03 – DE, Hamburg – Logo
02/04 – SE, Stockholm – Fryhuset, Klubben
03/04 – SE, Gothenburg – Tradgarn
06/04 – NO, Stavangar – Folken
07/04 – NO, Hamar – Gregers
08/04 – DK, Copenhagen – Vega
---

Support World Of Metal
Become a Patron!
New WOM Android APP – Read All Our Issues for free!
World Of Metal Magazine – Out Now
Download It Here!