WOM Features – Monstroid Releases The video for "Fall In Line"
Cape Town based desert rock unit Monstroid have released the video for Fall In Line, the second single taken from their forthcoming full-length album Set 2: Burnt Sky. The band is the passion project of 4 friends born out of a deeply shared appreciation for writing, making, and sharing tectonic plate-shifting music. From the rumbling depths emerges a melodic molten soundscape. From the skies a flaming fireball of fuzz. Monstroid resides where these forces collide. Born in the 80's, raised in the 90's they have focused their music around the Movies, TV shows and Toys of the time. Their musical influences are no different. For lovers of growling guitars, distorted groove laden bass, melodic vocals and exploding drums of thunder. Check it out below:
The video was directed by Fred van Leeuwen, a photographer and filmmaker currently based in Cape Town, South Africa. Fred started as a band photographer in 2009, which later evolved into the world of shooting music videos. By 2020, Fred's worked with various local bands, such as The Black Cat Bones, Van Coke Kartel, Vulvodynia and Albert Frost to name a few.
For his full body of work, you can visit www.theimageengineer.com
Fred delves into the history behind the making of the video, " I approached Monstroid a while back regarding a music video I wanted to shoot to test a specific budget-friendly 50mm f/1.8 Anamorphic lens from Sirui. I thought it would look great to have a band in an underground car park, lit only by car headlights, to show off the lens's anamorphic characteristics, such as the beautiful streaky lens flares and fantastic low light performance. The performance scene was shot with the help of Stian Maritz on his camera, which helped a lot in the edit to splice between band members disappearing and reappearing when cutting between our cameras. Once we wrapped the performance, we spoke about adding a narrative to the music video. We felt the song is a perfect soundtrack to escape the city's noise and head out to the countryside, and decided to shoot some scenes out on Clarence Drive and the Overberg to establish that narrative between the performance shots fully. Special thanks to Willem at Sunshine Co for providing the Sirui lens to test out for this music video."
The band are more than happy with the final result and they explain, "For the second song from our upcoming record Set 2: Burnt Sky, we thought we give you one of our Live show favourites, which is a song we have been playing for a bit. It's been such a pleasure crafting and completing it and when The Image Engineer, Fred van Leewen, contacted us with an idea for the track, we had to jump on board. The song is fast paced and mixed in with tight editing and some epic shots in and around Cape Town, we could not be happier with the result."
Fall in Line is taken from their upcoming album Set 2: Burnt Sky set for release on the 22nd January 2021. Pre-save and pre-orders start today, 18th December 2020.
https://monstroidfuzz.bandcamp.com/releases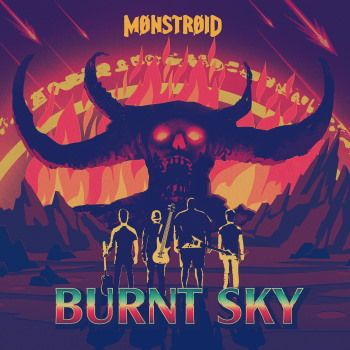 Website // Instagram // YouTube // Facebook // Twitter 
---
Support World Of Metal
Become a Patron!