WOM Streams – No Man's Valley premieres new album "Outside The Dream" in full – Exclusive!
World Of Metal joined No Man's Valley to bring you their new album "Outside The Dream" in a exclusive premiere. Below you can listen to it in full. "Outside The Dream" is going to be released on 22nd of March.
Enter a country of musical shapeshifters. A vast wasteland of the mind and soul. Its soundtrack is simultaneously psychedelic, dark, melancholic, psychotic, powerful yet gentle. Welcome to No
Man's Valley. No Man's Valley is a five-piece band from the south of the Netherlands who have been jamming together for over 5 years now. After releasing two EPs and their highly acclaimed debut full length "Time Travel" in 2016 on Nasoni Records the band toured Europe, played the renowned Freak Valley Festival in 2018, and a truck load of shows with bands like The Stranglers (UK), Naxatras (GR), Buddha Sentenza (DE), Giobia (IT), Arbouretum (USA), Donnerwetter (NL), and The Sore Losers (BE). Their single "The Wolves Are Coming" was included in the upcoming video game "Wreckfest" and has reached over 300.000 streams on Spotify.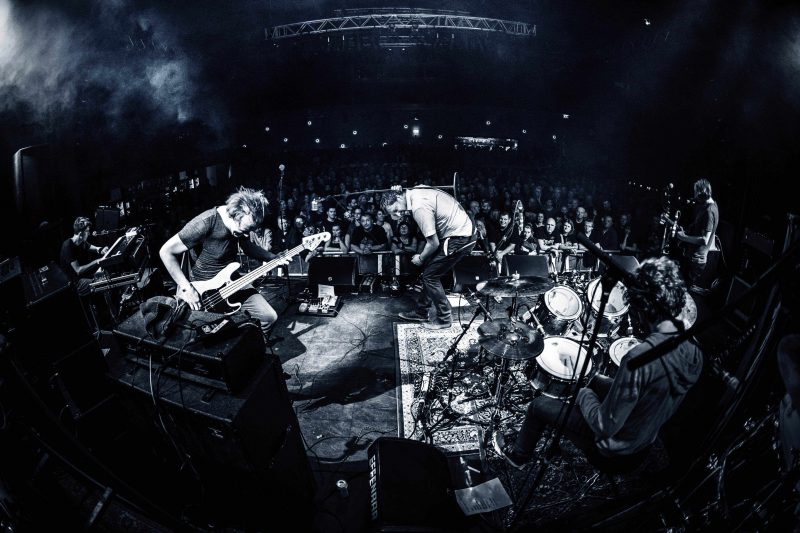 "Outside The Dream" is No Man's Valley's most personal work to date. The art and lyrical concept originate from a period of inner turmoil visualized in the tunnel on the outside and inside of the LP. The creation of the album proved to be a cathartic process, and it taught the band that music can truly be a healing power. However, "Outside The Dream" could not have been made by No Man's Valley alone. The band acknowledges and cherishes all of the good people that made this release possible by donating and pre- ordering massively through the successful crowdfunding campaign. The record label Tonzonen Records has also played a vital role in its creation.
The recording process of "Outside The Dream" was more compact than ever with the band spending only four days cramped together in a b&b-studio near Utrecht with producer/mixer Matthijs Kievit. Most of it was recorded live with the full band for that connected band-feel. All of the vocals were recorded separately in a menacing five hours at Studio Joneski in Hilversum. Pieter Kloos (Motorpsycho, Dool, 7Zuma7) took care of the mastering.
Tracklist
1. Outside The Dream
2. Eyeball
3. Hawk Rock
4. From Nowhere
5. Into The Blue
6. 7 Blows
7. Lies
8. Murder Ballad
Links
Official: www.nomansvalley.com
Facebook: www.facebook.com/nomansvalley
Bandcamp: https://nomansvalley.bandcamp.com
Label: www.tonzonen.de
---

Support World Of Metal
Become a Patron!
New WOM Android APP – Read All Our Issues for free!
World Of Metal Magazine – Out Now
Download It Here!