WOM Supports – 01/03/19 – Space Tone Fest – The Black Wizards, Vircator, Earth Drive, Cigarret Vagina – Auditório do Pinhal Novo, Pinhal Novo
O projecto AJCOI – CENAS!!! da Associação Juvenil COI acolhe no Auditório do Pinhal Novo o evento :
((( SPACE TONE FEST 2019 )))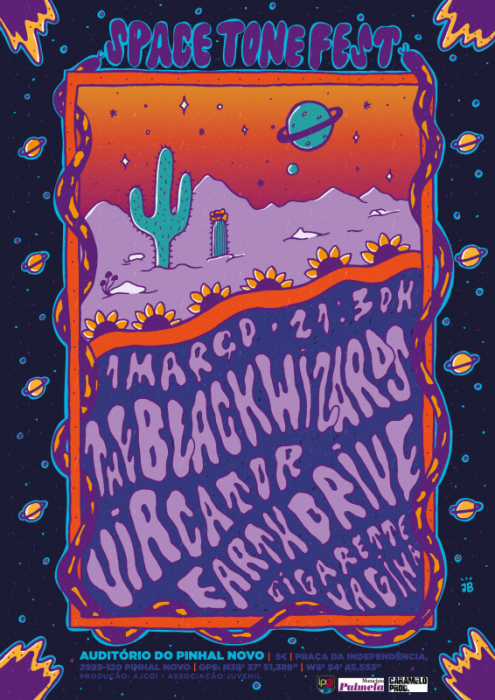 —————————THE BLACK WIZARDS ——————————
(Famalicão)
Os Black Wizards entraram em cena no final de 2015 com o promissor EP "Fuzzadelic" e com bombástico LP "Lake of Fire". A banda lança em 2017 novamente pela Raging Planet o álbum "What the Fuzz" e manteve uma actividade acima da média com várias apresentações ao vivo, realizaram várias Tours europeias e tiveram relevantes participações em grandes festivais nacionais e internacionais como por exemplo o Sonic Blast Moledo, Desert Fest, Red Smoke Festival, Reverence Valada, VOA – Heavy Rock Fest entre outros. Para este ano têm já garantida uma presença num dos mais prestigiados festivais Europeus como o Resurrection Fest em Espanha.
———————————–VIRCATOR ———————————-
(Viana do Castelo)
São uma das novas bandas portuguesas que apostam numa sonoridade que passeia pelas mais belas paisagens do rock e post rock, sem confinar ou restringir a catalogação quadrada.
O fantástico primeiro álbum foi lançado em 2016 e o incrível "Sar I Sang" em 2017 pela Raging Planet que nos convida a uma viagem cósmica emocionalmente poderosa. Álbuns estes que os levaram a realizar Tours Europeias e a marcar presença também em festivais de renome como o Sonic Blast Moledo , Barroselas Metal Fest entre outros tal como a actuar em locais arrebatadores como por exemplo num Vulcão em França.
———————————–-EARTH DRIVE ————————————-
(Montijo)
Também com discos lançados pela Raging Planet os Earth Drive caracterizam-se por um som denso, melódico, visceral e catártico, sempre com o peso que este género necessita. Este quarteto do Montijo passou por vários palcos prestigiados do Underground como o Festival Reverence Valada, Under the Doom, Sprint to Rock, VOA Heavy Rock Festival, Woodrock Festival e StoneFest merecendo excelentes review´s da imprensa especializada.
—————————-CIGARRETE VAGINA —————————–
(Pinhal Novo)
Os Cigarrete Vagina são uma jovem promissora banda natural do Pinhal novo que têm neste evento uma oportunidade de promover o seu trabalho.
INÍCIO CONCERTOS 21:30
BILHETES : 5 Euros
---

Support World Of Metal
Become a Patron!
New WOM Android APP – Read All Our Issues for free!
World Of Metal Magazine – Out Now
Download It Here!