WOM Supports – 25/05/19 – Sun Dethroned Over Algarve – Moonshade, Sacred Sin, Shadowmare, Wicked Edge – ARCM Bar, Faro
25/05/19 – Sun Dethroned Over Algarve – Moonshade, Sacred Sin, Shadowmare, Wicked Edge – ARCM Bar, Faro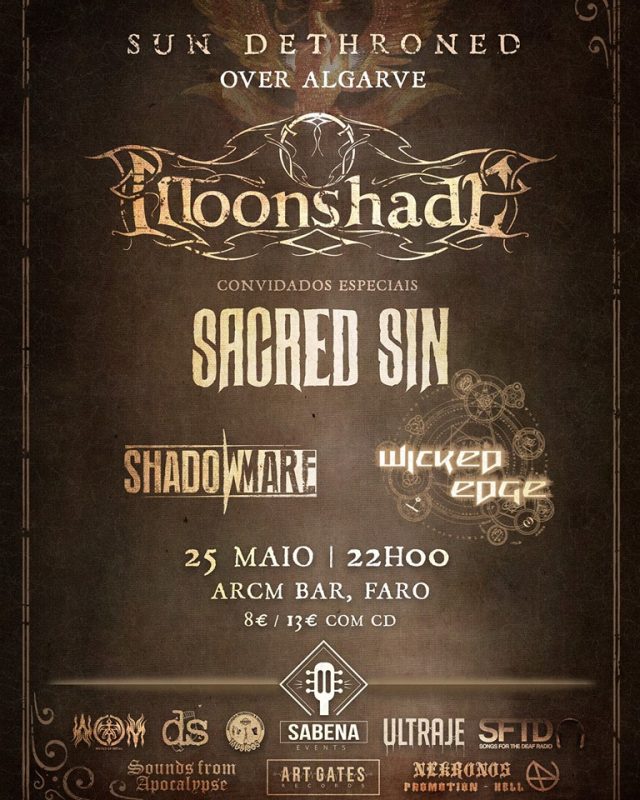 SUN DETHRONED OVER HELLGARVE
Moonshade + Sacred Sin + Wicked Edge + Shadowmare
Preço: 8€ ou 13€ com álbum "Sun Dethroned".
Bilhetes à venda no dia, no local do evento. Limitado a 150 entradas.
Os Moonshade são uma banda de metal lusitano, formada em 2010. Após uma demo e um EP, a banda lançou recentemente o seu álbum de estreia – o épico conceptual "Sun Dethroned" (Art Gates Records, 2018). Trazem-nos uma história protagonizada por deuses caídos, caos, desespero e morte, pisando terras algarvias pela primeira vez e trazendo consigo o derradeiro pôr-do-sol.
Os convidados especiais Sacred Sin são verdadeiros pioneiros do som extremo em Portugal. O seu death metal de sonoridade incrivelmente característica trouxe-lhes uma carreira de sucesso e longevidade invejáveis, culminando no lançamento da sua última obra aclamada pela crítica – "Grotesque Destructo Art" (Chaosphere, 2017).
Wicked Edge são uma banda multinacional e multigeracional sediada em Portimão, cuja sonoridade possui uma simbiose icónica entre o passado e do presente do heavy metal, levando o ouvinte numa viagem única. Trazem como bagagem o seu EP homónimo, rico em histórias de tempos medievais e imaginário futurista.
Shadowmare são uma banda de metal experimental oriunda do Algarve. Nascidos da junção de membros de varias bandas da cena algarvia como Deathland, Stronger Device e Sarcastic Mind, trazem consigo o seu magnum opus "Shades of the Untold", uma obra de ecletismo invejável e munida de uma agressividade única.
---

Support World Of Metal
Become a Patron!
New WOM Android APP – Read All Our Issues for free!
World Of Metal Magazine – Out Now
Download It Here!