YE BANISHED PRIVATEERS – Brand New 360° Video Released!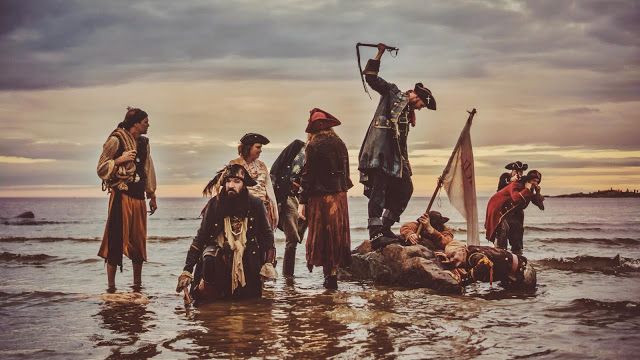 Hoist the Jolly Roger! YE BANISHED PRIVATEERS take no prisoners. With 'First Night Back In Port', set to be released June 30th 2017 on Napalm Records, a loose merger of ruffians and raiders will take you back into the cruel world of the 18th century. Be prepared for rough times where pirates dominated the seven seas! Now the band unveiled their first and an exciting 360° music video for the album title track 'First Night Back In Port', dive into the sailor's world of YE BANISHED PRIVATEERS right below!
With the influences of Irish and Skandinavian folk as well as raw punk they brew stormy sea chanties, none of the band's sprees is as alike as two peas in a pod. YE BANISHED PRIVATEERS count 30 crew members. At least a dozen of these buccaneers arm themselves to the teeth with fiddle, banjo and accordion on any of their feasts. All of them with grumpy gorges but hearts made of gold when they sing against laws and nations. If this pack of rags and tricorns ask for a dance no gums stay dry, no peg legs stiff. Smoky gullets join in unique sounds of long forgotten days – a time travel back to honest and moving music.
Support World Of Metal