20.21.01.23 – Xxxapada Na Tromba 2023 – RCA Club, Lisboa
Conforme o tempo avança torna-se mais inevitável o regresso do Xxxapada Na Tromba, edição de 2023, depois de alguns adiamentos. A expectativa para voltar a viver um dos melhores e maiores eventos da música extrema em Portugal é enorme, principalmente quando se conta com um cartaz com nomes como Benighted, Jig-Ai, Abysmal Torment, Analepsy, Blockheads, Cerebral Effusion, Serrabulho, Stillbirth, Necrotted, Grog, Rabid Dogs, Embrace Your Punishment, Downfall Of Mankind, Anime Torment, Grindead, Dead Meat, Obsolete Incarnation, Convulsions, Basement Torture Killings, Verme e ADT. Dois dias de festa como já tínhamos saudades.
Os bilhetes comprados em 2021 para esta edição, ainda são válido . No entanto, quem não o chegou a fazer na altura pode agora comprar os bilhetes em
xapadafest.bigcartel.com
ou em
xxxapada.fest@gmail.com
! As entradas têm o preço de 50€. (nota: as entradas terão uma bebida incluída)
Já está disponível a T-shirt do evento. Podem fazer a pré-reserva da mesma através do email xxxapada.fest@gmail.com. O preço em pré-venda é 12€. Em breve iremos fazer as encomendas, após essa data já não aceitamos mais pedidos de pré-vendas e no dia do festival terão que arriscar a vossa sorte para encontrarem ou não o vosso tamanho em stock.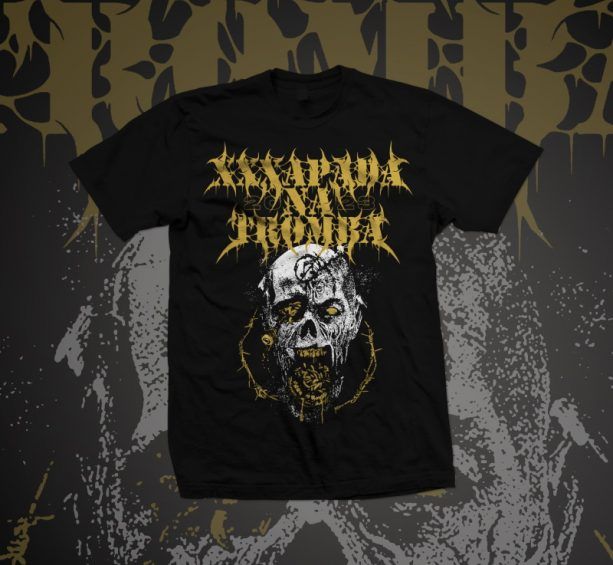 Um evento com o apoio World Of Metal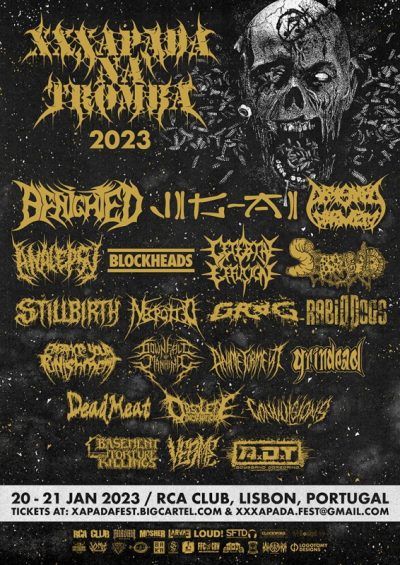 ---
Support World Of Metal
Become a Patron!