Onegodless announce debut album "Mourner"

Onegodless just released the artwork, album title and tracklist of their upcoming debut album "Mourner". The band was founded by Dutch bass player Robin Zielhorst, who is known for his (fretless) bass playing in bands like Cynic, Exivious, Our Oceans, Textures, various studio projects and solo performances.
The band is proud to present to you the album artwork: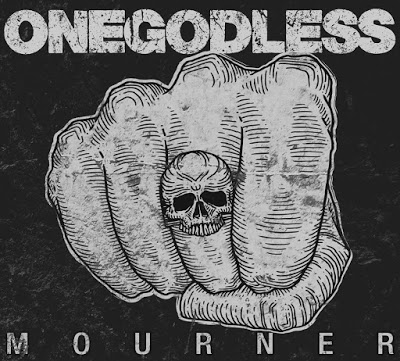 With a total running time of just over 43 minutes, this CD will surely give you the finest in their self proclaimed genre heavystonerbluesgrooverocksludgemetal. As the band is known for their joking image, not taking things too seriously, their music is most definitely serious. Zielhorst: "A lot of the things we say are meant in a humorous way, more or less. It's a reaction to the (music) world as it is right now. Of course we did not invent a new genre called heavystonerbluesgrooverocksludgemetal, but it was either that or call it anti-Djent (laughs).The music and the lyrics are very serious, though, there's not a joke in that".
About the album title "Mourner" and its artwork Zielhorst says: "It fits. It's a link to the previous band name, a way to include our roots, so to say. It also underlines the artwork: the Yogi man (inside artwork) mourns about the world, closed off in his own being." The artwork is made by GutsArt in cooperation with Zielhorst.
Tracklist:
Intro (0:02)
The Calm (4:28)
Burn The Sun (4:37)
Countless Hours (4:06)
Unstable (4:27)
Hangman's Time (4:12)
Songs Of Old (3:44)
Goliath (4:02)
Salvation (5:47)
My Blood (4:35)
From The Ashes (3:29)
Total running time: (43:29)