Paradise Lost e Heavenwood confirmados para Under The Doom Festival
A Notredame Productions divulgou mais duas bandas que vão fazer parte da sétima edição do Under the Doom. O Festival irá realizar-se nos dias 6,7 e 8 de Dezembro em Lisboa, RCA CLUB e LAV – Lisboa ao Vivo respectivamente.
Os PARADISE LOST são cabeças de cartaz dia 8 de Dezembro, e os HEAVENWOOD uma das bandas que irá atuar na mesma data, partilham o palco também com os Alemães DISILLUSION ou com os Britânicos DARKHER.
O dia 6, será considerado o "dia 0" do festival com três bandas a divulgar brevemente, o dia 7 já com algumas bandas divulgadas entre elas os ALCEST também como cabeças de cartaz.
Os Passes gerais para 3 dias estão já disponíveis com uma oferta limitada de 100 unidades a um valor "low cost" de 50€ (atenção que o stock já está muito limitado à data). Após os 100 passes esgotados o valor passará a 60€ por cada unidade e será iniciada a venda dos bilhetes diários.
Podem ser adquiridos nos seguintes locais:
Venda Online:
Aqui: https://bit.ly/32yRZaV
Aqui: https://bit.ly/2Y8gWKO
Aqui: www.masqueticket.com
Também em formato físico nos seguintes locais:

Carbono Amadora
Glam-o-Rama Lisboa
Mais informação em: https://www.facebook.com/UndertheDoomFestival/ Ou no evento oficial: Under the Doom 2019 – Lisboa
Mais algumas confirmações em breve…
Agarra já o teu passe!!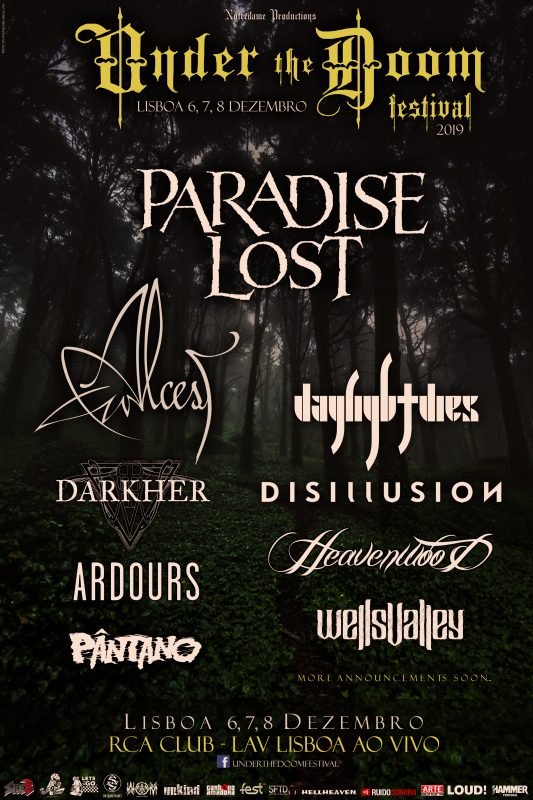 Um evento com o apoio World Of Metal
---

Support World Of Metal
Become a Patron!
New WOM Android APP – Read All Our Issues for free!
World Of Metal Magazine – Out Now
Download It Here!