Ruby the Hatchet debut new track, 'Killer'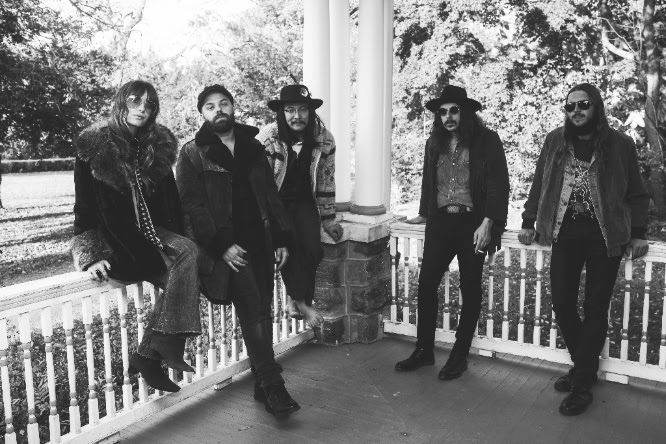 Philadelphia psych-rock quintet RUBY THE HATCHET will release its new album, Planetary Space Child, on August 25 via Tee Pee Records. The band has just released Killer, the first single from the new LP.
"There's an infatuation with serial killers among us and I was into the Zodiac Killer while writing Killer", comments vocalist Jillian Taylor. "They never caught him, you know. Late 60's to early 70's in northern California, right between the Kennedy assassination and the Manson murders. This is when people started locking their doors. Summer of love and all. The Zodiac targeted happy couples, taunted police and claimed 37 murders, but no one could find or prove them all. He was cryptic. He used cyphers and cryptograms to send to news outlets. He made a symbol for himself and left it at his crime scenes. I think he wanted to be caught, and that the touch of a woman would terrify him."
Recorded in an 1800's era estate deep in the Pennsylvania woods with engineers Joe Boldizar (Retro City Studios), Zach Goldstein (Kawari Sound), and the band's own Sean Hur, Planetary Space Child reflects the unique process of its creation. The product of several weeks of self-imposed isolation, the record showcases seven richly layered songs that unite heavy, doomy psychedelia with acid-rock, proto-prog and melodic, hypnotic songcraft complete with looming organ flourishes and rolling vocal harmonies that imbue an infectious aura.
Taking advantage of the century-plus-old manor's natural acoustics, inherent eeriness and a custom built control room, "Planetary Space Child" sees the band elevate their sound to new hallucinogenic heights with layers of experimentation and a weighty, undeniable sonic pallette that is dark, lush and impervious to mimicry. With a bouncy creepiness, the album's bulk forges a hypnotic, head-nodding nirvana while electric vocalist Jillian Taylor spins haunting tales of death and dreams, her voice layered in hazy smoke that infuses the sound of the band with an otherworldly element.
Planetary Space Child track list
1.) Planetary Space Child
2.) Killer
3.) Pagan Ritual
4.) The Fool
5.) Symphony of the Night
6.) Gemini
7.) Lightning Comes Again