WOM Features – Devilment / Une Misère / Whitechapel
DEVILMENT | release official live video for 'Hell At My Back
Witch County nefarious frights DEVILMENT – led by vehement frontman Dani Filth – have released an official live music video for the track 'Hell At My Back', which was shot during the band's storming set at Bloodstock Open Air Festival last year. Watch it below:
The band states: "The live video for 'Hell At My Back' was taken from Devilment's performance at Bloodstock 2017, which was an awesome show played at an awesome festival. We had quite a riot at Bloodstock that year, with some truly unforgettable moments courtesy of meeting bands and friends amid many alcoholic beverages.This was actually the last show for both Lauren and Nick, who left the band amicably not long after the show for commitments in the real world.
'Hell At My Back' is a precursor to our forthcoming appearance at this year's HRH Metal III. Lyrically, the protagonist of the song is constantly haunted by his past,  hunted by the horrors he has confronted since time immemorial. Awful things he has done in the name of love. But it is again another song of defiance, of staying the inevitable, of the eternal struggle of 'being'. Of evading the clutching powers of Hell". 
'Hell At My Back' is taken from the band's latest masterpiece »Devilment II: The Mephisto Waltzes«.
---
UNE MISÈRE – sign to Nuclear Blast, release music video
Icelandic wrecking crew UNE MISÈRE have signed to Nuclear Blast Records.
UNE MISÈRE comment, "As a band we are more than excited to be signing with a label that has hosted many bands that we have listened to and loved since we started listening to heavy music. This signing will serve as a jump start to what we aim to achieve – We are nothing but humble for the opportunity and excited for what the future holds. This signing marks the beginning of a cooperation that everyone will know of. We aim for the world, and Nuclear Blast is going to help us get it."
In celebration of the signing, the band offer a music video for their song, "Damages". The song was recorded by Leifur Örn Kaldal Eiríksson at Lightweight Studios and was mixed by Sky Van Hoff and mastered by Svante Forsbäck. The video was directed by Amy Haslehurst. Watch the music video for "Damages" here:
The band commented about the song, "'Damages' is about being at your breaking point. It is about being at the very edge and falling over. 'Damages' is about facing the fact that mental diseases may never be cured; although the person can get better, one may never be fully rid of it. Depression, anxiety, addiction and so forth – they will always be there. The shadows – they will always be there. They will follow you – into the grave."
UNE MISÈRE formed in April 2016 by a collective of 6 artists who came together to play really heavy music. Each of the members were involved with various hardcore bands until they joined forces to write music inspired by Iceland's darkest and most bleak aspects. With only a year under their belt, the band took 2017 by storm playing several shows including winning a Wacken Metal Battle in their hometown which later turned into a performance at the re-known festival. It also marked the release of their first mix-tape entitled ,010717, which was also served as the release date. They continued to make waves landing a slot at Iceland's own Eistnaflug. Throughout the festival they played 3 separate performances, Most notable was when they played at an abandoned pizza parlor where their live performance cemented their name in Iceland's underground hardcore metal scene. Fast forward to 2018 where the band continue making their rounds, performing their memorable live shows at Roadburn Festival, and Bloodshed Fest as well as a tour in Europe.
UNE MISÈRE are going full steam into 2019 with performances at Summer Breeze, Metal Days as well as several festivals that have yet to be announced.. The explosive collective is ready to show the world how their sound pushes sonic boundaries.
Catch UNE MISÈRE live:
16.01.2019 – Eurosonic Noorderslag / Groningen / NL
18.01.2019 – Ozzy / Apeldoorn / NL
19.01.2019 – Jagersonic / Groningen / NL
21-27.07.2019 – metal Days / Tolmin / Sl
14-17.08.2019 – Summerbreeze – Dinkelsbuhl / DE
UNE MISÈRE are:
Jón Már Ásbjörnsson – Vocals
Finnbogi Örn Einarsson – Guitar and vocals
Fannar Már Oddsson – Guitar and vocals
Gunnar Ingi Jones – Guitar
Benjamín Bent Árnason – Drums
Þorsteinn Gunnar Friðriksson – Bass
---
WHITECHAPEL launches new single 'Third Depth'
On March 29th, WHITECHAPEL will release their 7th full-length, 'The Valley', via Metal Blade Records. Mixed by David Castillo, mastered by Ted Jensen, and produced once again by Mark Lewis (Cannibal Corpse, The Black Dahlia Murder), 'The Valley' is a reference to the part of Hardin Valley (west of Knoxville, Tennessee) where vocalist Phil Bozeman grew up. Set against this backdrop, he approaches his subject matter unflinchingly, building upon everything that came before, making it clear that he has survived that which he was forced to endure and is not afraid to confront it. "Phil has been upfront in his lyrics in the past about hardships he endured in his life as a child, and I believe with this record we tried to paint a better picture of that," says guitarist Alex Wade, who alongside his bandmates, stands 100% behind everything their vocalist has to say. "I feel our music is Phil's release from his past, being able to get it out and speak about it, and hopefully anyone who hears it that may have gone through similar experiences can find some release in it as well."
For a preview of 'The Valley', the new single 'Third Depth' can be heard now below:
To hear the previously released tracks ("Brimstone" and "Black Bear"), please visit:metalblade.com/whitechapel – where the album can also be pre-ordered in the following formats: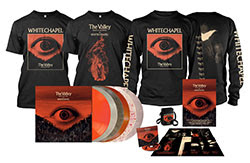 –digipak-CD
–box set (digipak CD, shoulder bag, 10 art prints, poster)
–clear w/ black smoke vinyl (US exclusive – limited to 600 copies)
–transparent red w/ black smoke vinyl (US exclusive – limited to 500 copies *Indie Retail Exclusive*)
–opaque red inside black haze vinyl (US exclusive – limited to 300 copies)
–opaque cream w/ black splatter vinyl (US exclusive – limited to 300 copies)
–black inside transparent orange haze vinyl (US exclusive – limited to 300 copies)
–orange / red marbled vinyl (EU exclusive – limited to 500 copies)
–180g clear vinyl (EU exclusive – limited to 500 copies)
–clear / black marbled vinyl (EU exclusive – limited to 200 copies)
–white / orange / red marbled vinyl (EU exclusive – limited to 200 copies)
–orange / purple marbled vinyl (EMP exclusive – limited to 100 copies)
–blood splattered vinyl (Impericon exclusive – limited to 100 copies)
* exclusive bundles with shirts, plus digital options are also available!
Anyone throwing 'The Valley' on for the first time will immediately recognize it as the work ofWHITECHAPEL, yet as has been the case with each release, there is also evolution in play. "Sound-wise, it's all over the place," Bozeman states plainly. "There's aggression, and then you're hit with ominous and emotional guitar riffs. It's mean, but then transfers to soft and inviting. It's a whirlwind of emotions throughout."
Stay tuned for more news about 'The Valley' coming soon!
'The Valley' track-listing
1. When a Demon Defiles a Witch
2. Forgiveness Is Weakness
3. Brimstone
4. Hickory Creek
5. Black Bear
6. We Are One
7. The Other Side
8. Third Depth
9. Lovelace
10. Doom Woods
Artwork by Branca Studio
https://www.whitechapelband.com
https://www.metalblade.com/whitechapel
https://www.facebook.com/whitechapelmetal
https://twitter.com/whitechapelband
https://www.instagram.com/whitechapelband
https://www.youtube.com/WhitechapelTV
---

Support World Of Metal
Become a Patron!
New WOM Android APP – Read All Our Issues for free!
World Of Metal Magazine – Out Now
Download It Here!