WOM Supports – Chaosphere Fest, RCA Club – 07.09.19
Em cooperação com a Chaosphere Recordings, a Notredame Productions apresenta o Chaosphere Fest que este ano celebra também os 20 anos da editora. O evento realiza-se já no dia 07 de Setembro, Sábado, no RCA Club em Lisboa.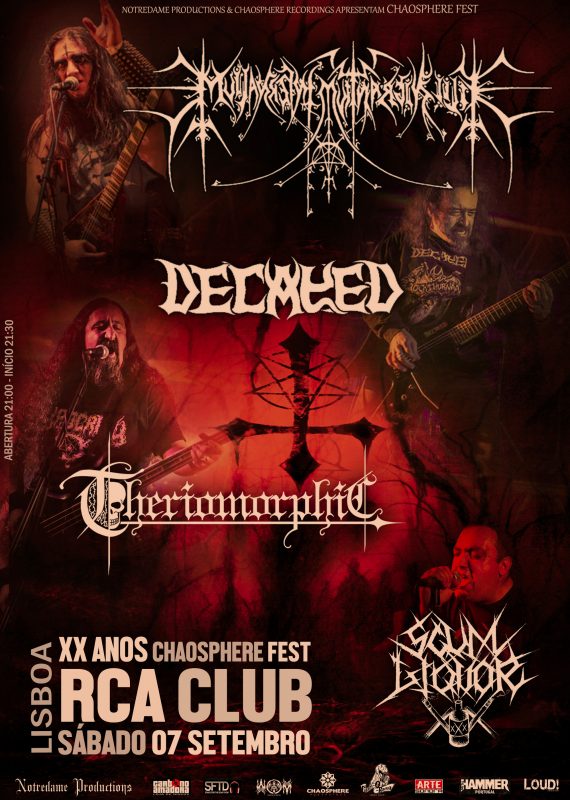 O cartaz é de luxo, e conta com algumas das principais bandas do Underground nacional. Os Filli Nigrantium Infernalium entidade de grande culto que conta já quase três décadas de carreira, lançaram o seu mais recente e brilhante "Hostia" no ano anterior.
Decayed, eles que são também uma das entidades pioneiras no metal underground Português, a poucos meses de completarem três décadas de actividade sempre pela força e persistência de J.A, guitarrista fundador dos Decayed.
Theriomorphic, outra grande e importante banda no panorama nacional, liderada pelo carismático Jó, fundada em 1997 e tocam death metal! O seu mais recente trabalho de estudio chama-se "Of fire and Light" e conta também com o selo da Chaosphere Recordings.
Scum Liquor, uma banda mais recente mas não é por aí que se ficam atrás das três anteriores, a prova disso está nos concertos ao vivo em que a palavra Caos caracteriza cada minuto que é debitado suor de cima do palco.
Os bilhetes para este concerto vão estar à venda na loja Glam-o-Rama em Lisboa, Carbono Amadora e no Side B Rocks, ao valor de 10€. A banca da Chaosphere Recordings estará presente no evento com uma grande variedade de edições e artigos.
Contamos com a vossa presença neste evento com o apoio da World Of Metal.
---
&nbsp


Support World Of Metal
Become a Patron!
New WOM Android APP – Read All Our Issues for free!
World Of Metal Magazine – Out Now
Download It Here!